TheFactoryLands (alpha version (chapter 1 only))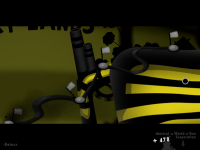 Authors:
Volcanojungle
,
Crazydiamonde
Total downloads: 168
Latest version: 0.1
Release date: 07/21/2021 - 03:36
This is my really first custom chapter!
i prefer the remastered version that you can download here: http://goofans.com/download/chapter/thefactorylands-final-version
There are 12 levels on this chapter. All of them are on the site (goofans.com)
- W6
- Factory Entrance
- Gunpowder
- GunwpoderChallengeTime
- DarkRiver
- Pipeway
- Main Pipeline
- Main Drain
- Wasting
- Smoke Problem
- WasteStorageUnit
- IntotheWasteLandfill
I hope you'll enjoy and a lot of thanks to Crazydiamonde for his help for the "coding" part of the chapter!!
Credits: music: Kyle gabler
Assets: Kylegabler+Volcanojungle
Goos: Kyle Gabler + Volcanojungle
There is 1 current download.