Vol. 3:(Sandy World For Goo-660)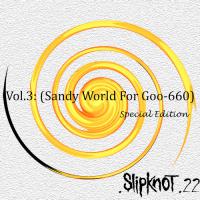 Authors:
.SlipKnoT._2_2
,
gg
Total downloads: 2,516
Latest version: 3.0
Release date: 12/17/2015 - 06:04
Vol. 3:(Sandy World For Goo-660) is my third official chapter. The chapter is one of the easiest chapters to play by a regular WoG player. This is where my levels kind of started to evolve but this is where gg only contributed 3 images. A person I'd like to hide in the name Starrstudent helped me out but to this day, he never joined goofans. I have no Idea who moderated this chapter but for the chapters after this, I know MoM4evr is responsible for publishing my addins. This is the first chapter I haven't released single levels.
Concept
The main concept is to travel and explore another planet and find a new place for gooballs to live. The new planet is desert-like so the temperature is extremely hot.
Story
In the beginning, a giant head-like storage is supposed to be launched by a giant balloon. The launching is successful but the giant storage got stuck because of a little space junk. Good thing that there are lost gooballs in space to aid the head. The space junk then was exploded. The head landed successfully on a sandy planet and unloaded the gooballs.
Vol.3 is supposed to be my first chapter but I failed to accomplish it so I worked on Winter Wonderland first. I lost all the levels because my hard drive broke. I recreated all the levels that i lost.
Difficulty
The difficulty level of each level is fairly easy. Unlike the 2 previous chapters, this chapter is easy to accomplish. The difference was, the OCD's are harder and sometimes impossible.
Levels
Original Release
1. Leaving
2. In Space
3. Just Arrived
4. Hand 4 Hand
5. Canyon!
6. Impale Sandy
7. Middle Of The Desert
8. Out Of Balls
9. Reinforcements
10. Farewell
11. The Return
12. Send 'em All (after finishing an old .SlipKnoT.22 level, this level is followed up by a hidden level "Climbing Hot!")
v3.0 Special Editin bonus level
13. Loop Of Faith
Personnel:
.SlipKnoT._2_2-all levels, cutscenes, custom balls, images, map
gg-images
Starrstudent- all levels, xsl, xml
There are 3 current downloads.