on the run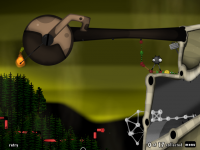 Author:
goomatz
Total downloads: 5,489
Latest version: 0.3
Release date: 12/05/2010 - 05:43
My first level.
ocd: 11 moves
Started editing last year. But I wasn´t able to make it stabil.
Than I lost it, found it, gave up and finaly rebuild it with the new editor.
Thanks to DaB. The utilgoo was my last problem with this level.
Special thanks to Jagoob for the music.
I hope you like it. Please vote.
changelog vers. 0.2: added loopsound, particles and some scenelayer to give it
more atmosphere.
corrected signpost text
0.3: added missing forest image
If you want to watch a spoiling video with a one move less easter egg, you can find it here.
But it´s more fun to find the solution by yourself.