World of Goo: "1/2" - Unofficial remastered version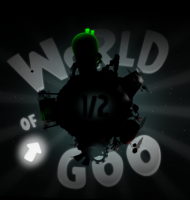 Authors:
LuckyGooツ
,
gooey goo
Total downloads: 1,387
Latest version: 5.0
Release date: 11/14/2021 - 16:07
Yes! i'm here uploading another addin. This one is a unofficial remastered version of WoG: "1/2" by Gooey Goo.
I have been working on this little project for some time, but i think i can upload it now.
Some things to note before playing this mod...
1-You need to install both addins in the download table, why not just one addin? The file sizes are kinda big, so yea.
2(and most important one)-While developing the mod, i ran into a issue that just deleted the text.xml (level names, chapter names, signposts, every type of text) so, sadly, the mod doesn't have any custom text, sorry for that, i hope i can eventually figure out how to fix it.
3- this remastered version ISN'T complete, some stuff is still left unfinished and there is some visual errors in some levels, please, report any bug that you find while playing.
4-World of Goo 1/2 isn't made by me, the original mod is made by Gooey Goo, i just did a unofficial remastered version of it.
Link to original 1/2: http://goofans.com/download/chapter/world-of-goo-12-unofficial-sequel
Link to gooey's goofans profile: http://goofans.com/user/9578
Other than that, enjoy playing! and remember to report any bugs to me (this can be bia this goomod comments or my discord profile, just ping me in goofans discord).
HELL YEAH!
Finally, an update
This is probably the best update for this mod, as i managed to fix the text.xml and bring the texts back to the mod!
Yeah, the texts aren't invisible or default anymore!
Warning
The fixed version of chapter 3 and 4 are NOT finished, do not play the new version of chapters 1 and 2 with the old version of 3 and 4, i have no idea how bad this could end
This update also remasters some sprites, such as
1. Complete assets rework for crystal gooballs (as well as a new detonate particle for them, you will rarely see this one

)
2. Most of chapter 1 n 2 backgrounds were remastered, not every single one of them though
3. Some assets that didn't look too well were remade
4. The assets of the goopy animation of the caves were remade as well, i think this ones look waaaaaay better than the old ones
that's basically it
Another warning, this version looks kinda... unfinished, as it was originally meant to fix the text, but i ended up remaking some assets
V5.0!
This version fixes chapters 3 and 4 texts and also combines all chapters in a single addin!
This update also reworks some stuff, such as:
1- Again, some assets got reworked
2- A lot of the gooballs assets got reworked
3- Redberry got a new eye images and a new detonate particle
Sadly, this update isn't really big, but hey, atleast now you can have the whole mod in a single addin and the chapters 3 and 4 text fixed
That's all i guess, enjoy!
There is 1 current download.