World of Goo 1/2 (An Unofficial Sequel)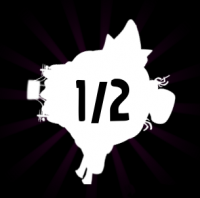 Author:
gooey goo
Total downloads: 14,821
Latest version: 5.0
Release date: 08/05/2021 - 21:52
This mod is in no way an official sequel to World of Goo
This is my very first chapter, and is soon to be part of a MWV! This addin contains:
-A new look for the MWV!
-A new first chapter!
-A new second chapter!
-A new third chapter!
-A new fourth chapter!
-17 new species of Goo!
-51 new levels!
Changes in Update 1.1, A.K.A The 1st Minor Update:
-Corrected "Mountian" to "Mountain"
-Changed update number "0.1" to "1.1"
-Changed title image for Chapter 1
-Renamed "Into Darkness" to "Into the Dark"
Changes in Update 2.0, A.K.A The Debugged Update:
-Chapter two is finally fixed!
Changes in Update 3.0, A.K.A The Industrious Update:
-Circular has now had a ball count change, from 5 balls to 3 balls!
-Several levels have had OCD changes!
-Chapter 3 is added!
-Chapter 2's cutscene works!
Changes in Update 4.0, A.K.A The Overdue Update:
-Chapter 4 is added!
-"Mainframe Matrix" and "The Core" have been altered to remove any buggy behavior due to time bugs.
-"The Core" has been undergone a slight change to resemble the original plan for the level.
-Chapter 1 should now have all "Mountians" corrected to "Mountains"
Changes in Update 5.0, A.K.A Technically It's An Update:
-"Official Release" has been removed from the thumbnail so people don't mistake this mod for something by 2D Boy or whatever.
-Fixed some minor text issues, such as mispellings and signs not working.
-2 levels were modified to resolve widescreen issues (there still may be levels with issues however).
-Listy has been given animations, as they were always meant to have.
-Meat and RotBombs have been given new particle effects.
-The creature from Chapter 2 has an updated texture (although the one from the cutscene is still the same).
-Rocks now have updated textures.
-A sign has been hidden in one of the levels containing a hidden passcode.
-The sound quality for music and cutscene sounds has been greatly reduced in order to decrease the file size, which means...
-The mod has now been reduced to a single goomod!
There are 18 screenshots.
There is 1 current download.