Russian MegaPack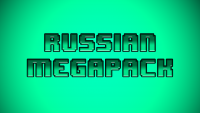 Author:
ieldan22
Total downloads: 865
Latest version: Scroll down in description for download!
Release date: 10/12/2016 - 04:38
Hello! This is Russian translation and Ultra Collection of addins.
SCROLL DOWN FOR DOWNLOAD!!!
----->|THANKS TO ALL AUTHORS OF THIS ADDINS|<-----
(Sorry, but it's imbossible to add all to authors list)
Birthday Nostalgia
Clear Sky
Bunny Hopping
Challenge Levels
Cliffo
Rescue the goos!
Database
Down the drain
Free flight
Goo fishing
Sticky hills
High pillar
Lack of fuel
Lagoon
Bog of goo
Milky way (Integrated, Working)
Nail hill
Ode to bridge builder 2
Rainy day
Risky's high spiky hill
Strong wind
Sunrise
Train of death
Windmill weather
Wingless
YinYang
Once at Night
[WoG 1/2] (by gooey goo)
Gears of Fury
Frosty
----->|AND OTHER...|<-----
Maple ball texture (TM13's view of the WoG)
Pav Evil eye
Anchor fix
Apple gooballs
RotAnim
WoG 1/2 (Crystal balls)
ISH Expansion (A new balls for inf. superhighway; my unreleased addin because i'm too lazy
----->|INSTALLATION|<-----
Warning: Don't "install" this addin!
1. Download source.goomod
2. Extract override directory
3. Open source.txt and go to link in it
4. Download game.zip
5. Extract it and put to any other directory
6. Put your WorldOfGoo.exe (from your licensed game copy folder) to this directory.
7. Play game and enjoy higher resolution (1900x1080) and russification of all integrated addons!
If you want to add your ball, addin, levelpack, or, maybe, part of chapter (include levels from it) say in comments. All integrated addins will be translated to Russian language
Download here.
UPDATE 12.10.2016: IT'S LIVE!!!
UPDATE 20.12.2016: 2.0 Released
UPDATE 22.12.2016: Now no more source.goomod
| Version | Platform | Release Date | Filename | Size | Downloads |
| --- | --- | --- | --- | --- | --- |
| Scroll down in description for download! | Windows | Wed, 10/12/2016 - 04:38 | .goomod | 695 bytes | 865 |
There is 1 current download.