Click ME!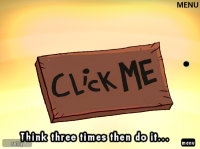 Author:
copcap
Total downloads: 1,028
Latest version: 0.16
Release date: 05/23/2014 - 23:36
It's a level just as Trollface Quest game,
It is very easy (belive me!),
But you have to think it over!
-The easy level made by copcap.
The Level Has Been Updated
Add a picture on clicking the button
There are 2 current downloads.