Connecting System Goo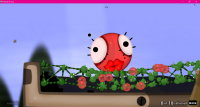 Author:
nvittoa03
Total downloads: 584
Latest version: 3.0
Release date: 11/15/2017 - 04:17
nvittoa03 in... Connecting System Goo!
In this level. Of course, you must connect from one goo ball to another goo ball.
YES! FINALLY! 2013 was the time when this level created, and in 2017, it's finally PUBLISHED! You may download the level! Any bugs and suggestions for the level? Comment down! Also, you may make a walktrough level of this one, and i will put it in here.
Changelog:
3.0
BIGGEST BUGS FIXES OF ALL TIME!
-Most of the bad things were removed.
-Gear Ballbusters were decreased
-Much Better Level
-Decorative Level!
-Some Sign Painters were remaded due to expletives.
-Added lights and shadows
-OCD Change
-Ground is replaced with spikes
-And More!
2.0
-Bonus sign painter near ivy at the top
-Sleeping ivy at the top.
-First cam time travel 3.5 sec
-No anchor in every place
-Subtitle (NO 3D ALLOWED) Deleted.
-Ground added at very bottom.
-Edited sign painter,near pipe.
-Pipe sign painter added with new word,-the seventh/pipe Sign Painter
1.0
-POI Camera avalible.
-Much of you can collect
0.2
-First release.
-Bugs fixes
Created by : nvittoa03
Edited by : nvittoa03
There is 1 current download.