The Forest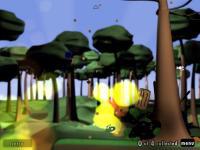 Author:
MOM4Evr
Total downloads: 3,516
Latest version: 1.2
Release date: 07/13/2011 - 13:14
The last of the Goo Balls didn't seem to notice...
that this level was in the goomod 1.1 format and that it needed GooTool 1.0.1 or higher to run it!
Or that the music from this level was adapted from Commander Keen episode 4!
Or that no one cares?
Anyway, blow up a dead tree to free a bunch of poor little Goo Balls trapped inside.
But it's just not quite as simple as it sounds.
Version 1.1 Release:
*Collision rectangles enlarged so balls no longer get stuck inside cliff
*Artwork improved slightly
Version 1.2 Release:
*Fixed backslashes in the resrc file, so now background will display correctly in other OS's than just Windows
*Music quality slightly improved