Going Down Through The Sky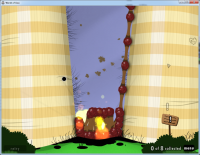 Authors:
jackchen2345
,
worldofgooballs
Total downloads: 2,569
Latest version: 0.2.2
Release date: 03/03/2012 - 23:22
A easy level as well. Designed by World of Gooballs. Have fun! It's a time limited version.
OCD: 18 balls.
Goal: 8 balls.
Version 0.1:
1.First version.
Version 0.2:
1.More challenging and harder.
2.Add two gears with a material to help you.
Version 0.2.1:
1.Add one camera. Focus with the Beauty.
Version 0.2.2:
1.Add a copyright label.
2.Add a background music.