The Goomino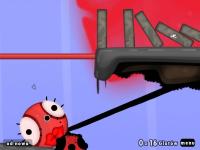 Author:
Goosweek
Total downloads: 2,395
Latest version: 0.2
Release date: 10/18/2010 - 07:12
I invented this level in "Sandbox" by MattOG.
Domino in the World of Goo!
You can save only 22 balls in this level.(It was frist idea for OCD.)
Easy 12 seconds OCD.
It was impossible to set 0 moves OCD (I don't know why) so I decided to replace it by time limit.
Fixed, Goo Tool 1.0.3 compatible version 0.2!