Hazardous Bridge Building (Earth Level)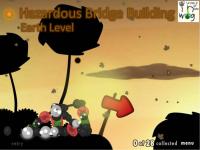 Author:
inwog
Total downloads: 1,788
Latest version: 1.3
Release date: 06/01/2010 - 23:17
WARNING! This addin depends on Element Buster Level, because you need the Earth Product.
ASSOCIATED WITH ORANGE EARTH!
This level is one of the most hardest of all times. There are 10 Ivies, 5 Albinos and plenty of black goo balls to build a bridge, there are two types of hazards in this level: Storm Clouds and Spikes. Earth elements can walk your goo balls faster. This is a combination of "Ode to the Bridge Builder", "Fisty's Bog", "Infesty the Worm", "Goosweek's Climbing Down" and my "Bridge Building Across the Cliff"; that's a total of 5 levels. Obtain earth goo balls so you can get OCD and bonus.
Earth Element - this element gives the ability of your goo balls to walk faster! For more info, go to the Element Buster Level.
inwog's 13th Single Level Addin.
Level made by inwog.
New Version: 1.3
- Cursor changed to Orange.