keep on running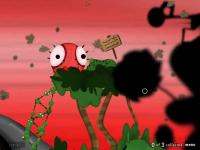 Author:
goomatz
Total downloads: 9,375
Latest version: 0.9.3
Release date: 06/28/2011 - 08:24
It's the sequel of on the run.
This level wasn't build in one day,
it wasn't build at all, I would say it has grown by its own and it has grown big.
It may take 10 sec. to load.
I would be happy to add more langauges, so when somebody has suggestion for translations please post it below.
OCD: 18, balls
Comments and ratings are welcome.
version 0.9.1:
changed music to reduce the file size.
0.9.2:
cutted out leaves, ish particles and the animated background
reduced spam
I hope this will enhance the level performance.
DON'T CLICK THE NEXT TWO LINKS, IF YOU DON'T WANT TO GET SPOILED!
To all who think the waste press is to tricky: Rabbits are sidestepping. Try to find the shortcut.
Here is the Easter-shortcut-Egg video.