Literal to Digital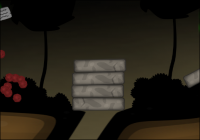 Author:
.SlipKnoT._2_2
Total downloads: 1,260
Latest version: 0.1
Release date: 02/15/2014 - 19:25
"Literal to Digital" is my second level. The level was released simultaneously with Hiking Adventure. Not appearing on the debut chapter Winter Wonderland, the level became the first single level released with no chapter. The level is 100 downloads more than "Hiking Adventure", resulting into a more successful level. Literal to Digital is also known for its unique bug.
History
This is the first level created in my history of modding. It was created on November 2013 for 3 hours. The level is basically unplanned. It didn't have the beauty and style of the later levels, most notably the levels from Distortion which featured bizarre images and full designs.
Release
The level was released on December 14, 2013, simultaneous with "Hiking Adventure." The level was also released on my first compilation pack The KnoT Fest
.SlipKnoT._2_2 Levels Chronology
There are 2 current downloads.