A Miniature Adventure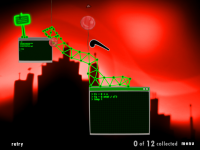 Author:
Deku
Total downloads: 1,876
Latest version: 0.3
Release date: 07/26/2014 - 13:49
Build up and up to the skies with the mini gooballs from MOM's Computer! Who knows what they will find up there?
OCD set at 16 gooballs for now. Suggestions on whether to change it (and what to change it to) are appreciated.
This should be quite challenging. I personally found it difficult to complete so I have no clue how difficult others will find it to be.