The original Tower of Goo!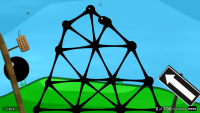 Author:
James
Total downloads: 1,173
Latest version: 0.1
Release date: 10/13/2011 - 14:46
It's the original Tower of Goo in goomod form! Some graphics and such were from the original game, and the balls were styled and slightly edited to look like the old ones! Since there was an unlimited version, a dispenser is put at the left for you to add as much goo as you want!... As long as your computer can handle it.

HAPPY 3RD BIRTHDAY WORLD OF GOO!

There is 1 current download.