PixelSP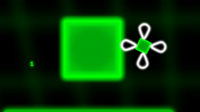 Author:
Ivan187
Total downloads: 1,284
Latest version: 1.2
Release date: 11/03/2014 - 15:25
This is my first level on GooFans. It features a pixel dispenser that I originally wanted to use in momo1526's sandbox, so I made it myself!

Goal: 30
OCD: 40 moves

CHANGE LOG
Version 1.1
The OCD is now 37 moves. In my opinion, 40 was too easy.
Version 1.2
Added a pipe filter that allows only Pixel Products to get in. This is to prevent lag.
You're no longer able to build through the green platforms.