Sleeping Between the Worlds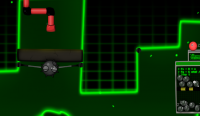 Author:
rainy
Total downloads: 1,803
Latest version: 1.1
Release date: 02/14/2011 - 05:15
Hi, this is my first...
Okay, I won't start with this phrase

In the Information Superhighway live only the pixels and bits goo. Electron clouds are flying, growing digital grass. But there is one place where the virtual world of goo intersects with the real world.
So, in this little level you can go there.
About level:
Required balls: 1
OCD: 16 or fewer movеs
Music: Yann Tiersen