Slide on the blocks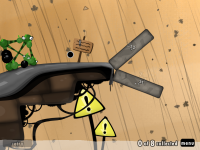 Author:
copcap
Total downloads: 1,426
Latest version: 2.67
Release date: 10/25/2013 - 22:03
I'm very glad to do this level.It's not bad.
Can you pave the long way?
And what do you eliminate the big obstacle?
My 11th.
Good luck.
New one
1.Change the color of water;
2.Add some new pictures;
3.Add timebugs;
4.Easier to get the OCD;
5.And some others.