Spider Goo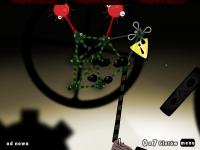 Author:
Goosweek
Total downloads: 1,694
Latest version: 0.9
Release date: 01/02/2010 - 00:04
In the secret Area for Mad Goo Scientists are mutant Goo Balls.
They want to escape from this horrible place filled by force fields and deadly walls.
But they don't know how...
Only 7 balls required
Only 8 balls possible
Only 11 moves for OCD
But I know someone will beat it in 0 moves or do some other amazing thing...

Goosweek's "Goomods Factory"

There is 1 current download.