Stranded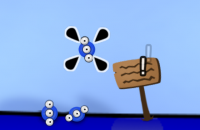 Author:
momo1526
Total downloads: 2,104
Latest version: 0.1
Release date: 03/11/2012 - 00:04
Those 3 gooballs are all alone... What are you supposed to do? Maybe if you play with them a bit, something good might happen.
Introducing my latest gooball:
The- Wait, I'm not telling you, that would give it away!


Please, no spoilers, each player deserves a surprise!
If you are interested by what I did with this gooball, check out the book page I wrote about
Make sure you played the level first though!