The Toy Factory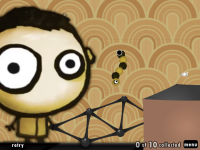 Author:
momo1526
Total downloads: 3,960
Latest version: 1.0
Release date: 09/09/2012 - 09:43
This was meant to be my level entry for the Little Inferno Level Creation Contest. However, I had already preordered the game, and was politely asked not to enter. So here it is! Enjoy!
On an unrelated note, please check out my SoundCloud, MomoSoundWaves, if you like alternative music.
There is 1 current download.