Goosweek's Special for PoG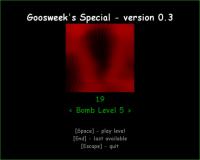 Author:
Goosweek
Total downloads: 644
Latest version: 0.4
Release date: 12/18/2016 - 06:17
I decided to post my PoG addins outside the main Platforms of Goo page.
To install this addin extract the zip file into levels folder of your Platforms of Goo (inter folder and GoosweekSpecial.ord.txt file should appear).
Goosweek's Special Level Set
is a set of PoG levels dedicated to really good players since most of Specials are much harder than any level in official chapters. Because of the difficulty, all of those levels can be skipped, and there's no need for solving them in order.
Some of Sepcials are showing features and inventions to inspire level designers.
VERSION 0.4 IS OUT!! Bug with rock-holding Bones finally fixed!
Most interesting features are:
Bomb emitter
Bones holding walls (cracked walls since v.0.4)
Running red cans (they are afraid of the Goo Ball)
Chess-Queen monster (combination of Bit emitter and Evil Eye)
Level without scrolling
Rising deadly bottom edge making player climb faster
Level without tiles (ugly)
Falling cracked walls
You can skip every level, but you cannot finish last level if you haven't solved all the previous quests
History:
It all started with the Evil-Eye oriented levels designed for my young friend Robert (he met PoG at age of 11). He also designed some messy levels (because of this I added quick-tiles function to PoGLE). Two of them were polished and put into my Special Level Set. Hard levels based on interactive monsters were stored in inter folder - now it's folder with Specials.
Addin uses only original sounds and graphics (comming form official release of PoG).
I hope you enjoy those inventions. I found much fun in playing those levels, even if it required many attempts to complete.