Birthday Theme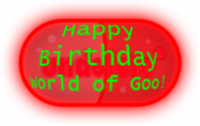 Author:
Albino Pokey
Total downloads: 4,157
Latest version: 1.0
Release date: 10/14/2011 - 12:05
Happy Birthday, World of Goo!
Most of the Goo Balls got party hats for the occasion!
2D Boy built a new office, which is shooting fireworks!
The Fuse Goo Balls didn't like the hats, so they're in charge of throwing confetti everywhere!
Confetti is falling in some of the other levels, as well.
All fixed now! It was the text.xml that was the problem.