The Red Parallel Universe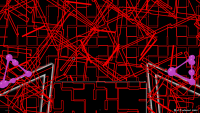 Authors:
.SlipKnoT._2_2
,
Slipknot
Total downloads: 170
Latest version: 1.0
Release date: 04/10/2018 - 08:50
The Red Parallel Universe is my twelfth chapter. The complete release was out on April 9, 2018 with cutscenes and everything else.
It is a part of a very big map world view I'm developing right now.
BTW, the chapter includes a ton of new music!
Chapter 2 and 3 are on the way!
AND, the official OST can be listened here.
Single Levels:
0001x8
Released: April 1, 2018.
Level Listing
1. Glowing Darkness
2. Unrelenting Crimson
3. Equilateral
4. Exhibition 101
5. Scarlet Swing
6-8. GET OVER THIS
i. Deep In The Red Jungle
ii. Checkpoint
iii. Got Over It
9. 0001x7
10. 0001x8
11. Cruelty
12. Atop
13. A New Dawn
Latest Version:
0.7-First Release
1.0-Official
There are 2 current downloads.