The Ancient Temple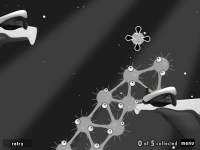 Author:
Albino Pokey
Total downloads: 1,764
Latest version: 0.1
Release date: 09/14/2010 - 15:51
Wow...these ruins must be thousands of years old!
Maybe there are ancient Goo Balls living here!
The thing is, they don't like it outside the temple. They detach and teleport back after 30 seconds.
If anyone (DaB? Pavke?) gets OCD, leave a comment and I will post your video! I'm not sure it's possible yet...I would also like a normal completion video. I have SnagIt, but it's incompatible with Win7.
For anyone who's interested:
The graphics are from Beauty School - main_02, Hang Low - iceplatform1, Pokey - lots of stuff, Hang Low - bg, wogcd - groundtile, Upper Shaft - blastwall
The disappearing sound is the pipe_suck_begin sound at 4 times normal speed.
There is 1 current download.