Free The Beautys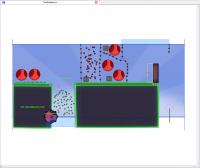 Authors:
jackchen2345
,
worldofgooballs
Total downloads: 1,344
Latest version: 0.2
Release date: 03/03/2012 - 23:11
A funny level! It is designed by World of Gooballs as well. You must use some BlockHeads to break the chains and free the Beautys. Have fun!
OCD: 90 balls.
Goal: 36 balls.
Version 0.1:
1.The first version.
Version 0.2:
1.Changed the depth to -100;
2.Repaired the pipe.
3.Added a copyright (maybe) label.