How I Roll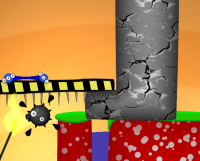 Author:
momo1526
Total downloads: 1,630
Latest version: 1.0
Release date: 03/18/2012 - 05:01
The three-eyed blue gooballs are back and ready to roll! Make sure you don't forget anything, you might get an unpleasant surprise when reaching the pipe...
Enjoy!
On an unrelated note, please check out my SoundCloud, MomoSoundWaves, if you like alternative music.
There is 1 current download.