Save The Drool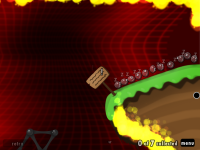 Author:
javerikr
Total downloads: 1,220
Latest version: 1.5
Release date: 06/25/2010 - 06:08
Save all of the drool from the raging fire!
This is my first time using the fire element, anchor, and sleeping goo balls, and my second level. The first one was a joke. So this is actually a level where you have to do something.
I would've added a signpost but currently the "text" button on WooGLE is not showing on my computer. I re-installed the program several times but it's still not working. I'm using the latest version. The command prompt window says, "Text Resource None found locally or Globally." I'd appreciate some help on this, thanks.
VERSION 1.5
* Signpost
* New background
* Stopsigns on both hills
* Sides of hills are deadly to goo balls
* More scenic fire on top of level
* "Screamer" music instead of "Jelly"
There are 2 current downloads.