Train of Death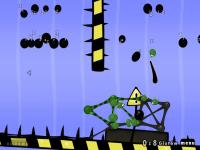 Author:
Goosweek
Total downloads: 1,806
Latest version: 1.1
Release date: 10/18/2010 - 07:21
The sleeping Goo Balls are going to miss the train!
Everything is deadly there!
But it's not very hard level...
For now there is 1 move for OCD.
Fixed, Goo Tool 1.0.3 compatible version 1.1!
With more balls required.
Inspiration from "Escape From The Depths" (by MOM4evr)