Kyle Gabler's Experimental Games Package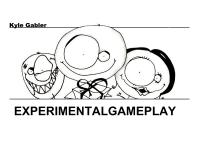 Author:
Pavke
Total downloads: 21,376
Latest version: 1.0
Release date: 01/11/2010 - 14:19
Kyle Gabler's games from Experimentalgameplay project!
This is all Kyle Gabler's work! I'm hoping I'm not breaking any copyrights issues.


What do you think what will the next 2D Boy games look like?

There are NO viruses here!
NOTE: Some antivirus programs may respond to these packages as viruses but, I assure you, these are NOT VIRUSES! They have been scanned with Norton antivirus last updated 23. Feb 2010. (These games have been uploaded much earlier)
Games:
part 1:
1. Attack of the Killer Swarm
2. Darwin Hill
3. Blow
part 2:
4. Big Vine
5. Gravity Head
6. Super Tummy Bubble
7. The Crowd
8. Tower of Goo
9. Particle Suck
part 3:
10. NEW GAME - Sunshine*
11. Tower of Goo Unlimited
* YES!! You read it right!! Sunshine - new game! IT's still in experimental stage!
It's like Big Vine game but much much prettier, and more stuff to do!
There are 3 current downloads.