Snailike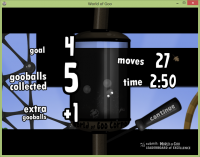 Authors:
Mygod
,
copcap
Total downloads: 842
Latest version: 0.1
Release date: 03/17/2013 - 02:05
The simplest structure building. Enjoy.

Goal: 4 balls
OCD: none
Personal record: 5 balls
Developers: This is a sample for showing the usage of the autodisable bug. Thanks @copcap for discovering it.
There is 1 current download.