Extended Levels Contest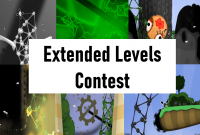 Authors:
DemonGamer
,
Volcanojungle
,
SerafimGWS
,
Liether373
,
Gooballs Of Fire
,
Saman izadi
,
Said
,
Blazer89
,
Extended Levels
Total downloads: 166
Latest version: 1.0
Release date: 06/05/2022 - 12:07
Hey everybody, these are the levels that were summited for my "Extended Levels Contest!" (Hosted by me, DemonGamer) Where players had to modify and extend a level from the original game.
-Results-
Winner: Blazer88
2nd: samangamer1386
3rd: SerafimGWS
4th: Scarlet Fury/Gooballs Of Fire
5th: Liether345
6th: Said
7th: Volcanojungle
You can find a more in-depth review on the levels in the video description.
I hope you all had fun and thank you for participating

There is 1 current download.