BUG School #4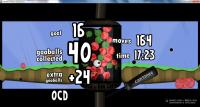 Author:
Mygod
Total downloads: 1,230
Latest version: 1.1
Release date: 08/23/2011 - 22:37
Continue making laobubu's BUG School. (7th level of mine)
This is an easy level if you know the trick. (balloon bug)
Goal: 16 balls
OCD: 40 balls
Enjoy it.

P.S. I like this bug very much because it's mighty and amazing!
There is 1 current download.