Climb the hills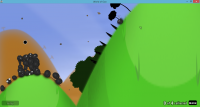 Author:
billy2000
Total downloads: 460
Latest version: 1.1
Release date: 11/13/2016 - 02:31
Go up the hills and avoid the spikes to get to the pipe.
I actually made this in 2013 but it didn't get published because I didn't add a screenshot and I needed to put the composer's name of the music in the description, and I forgot to do these things before I left Goofans.
Now that I'm back I have added a screenshot and requested it to be published again. I have also changed the music because I don't remember where I got it from, so I can't add the composer's name.
There is 1 current download.