Fire! (Hard Version)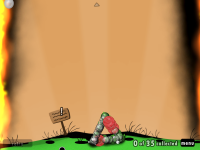 Author:
javerikr
Total downloads: 718
Latest version: 1.0
Release date: 07/02/2010 - 06:03
This is the hard version of the Fire level I published a few days ago.
http://goofans.com/download/level/fire-easy-version
This is the hardest level I've made so far. The only reason I published this is because I know it's possible and people wanted something harder.
Level description:
A pretty hard level. You must safely get out 20 sleeping ivy gooballs without the balloons popping or the balls exploding from the fire. This is the hard version of "Fire!".
There is 1 current download.