Ode to Chain Builder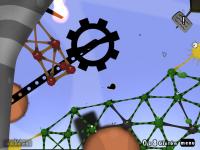 Author:
Goosweek
Total downloads: 1,076
Latest version: 0.1
Release date: 12/25/2010 - 02:20
There is some obstacle on the way, because of wrong value in special memory cell...
Rotate Goo-CD a few times to reload some important files and delete obstacle!
OCD: 40 balls.
I'm not sure, but extremely good players will save more.
-Goosweek Goomods Factory.
PS. Please rate, post scores etc.
There is 1 current download.