The Other Side of the Dispenser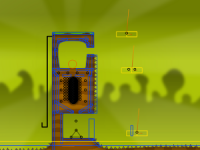 Author:
Nicosmos
Total downloads: 3,144
Latest version: 0.1.1
Release date: 12/14/2008 - 05:22
Insert the only fuse gooball in the fire to set in motion the Goo Dispenser. Fantastic! The Goo Dispenser… dispenses gooballs. Unfortunately, the exit pipe is at the other side of the dispenser. You will have to circle it to escape!
The Other Side of the Dispenser is my first level and is quite not finished yet. Actually, I don't even know if I will finish it sometime.
More information is available in this topic (now archived) on the 2D Boy forum.
Et si vous parlez français, on en parle sur ce sujet du forum francophone.
There is 1 current download.