Under the Tree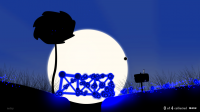 Author:
Mygod
Total downloads: 4,215
Latest version: 0.4
Release date: 08/27/2011 - 19:04
My third level. It happened in a dark quiet night. This might be the first level of my first chapter.
My new goo = Blue Pilot + Albino Pokey's Glowing Goo + long detaching strand in laobubu's BUG School #3 + the ability to draw in the sky.


Goal: 4 balls
OCD: 16 balls (must will be more)
To get the OCD, you must try some non normal ways.
This contains 1 level, 2 new goos, 3 new effects and 6 new images.