Russian Language pack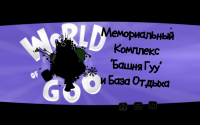 Author:
movildima
Total downloads: 1,651
Updated: Thu, 04/17/2014 - 10:30
Finally after a long time, I made this addin that enables Russian!!!


Please read down below:
This mod adds Russian localization in the game. Please set the game language to Russian in the GooTool's Options tab. This mod changes the original World of Goo font in a different one. Sorry for that. Don't use this mod if your game already has Russian fonts!!! It was made only for non-russian game.
From now being, I'm going to post translations for other levels in Russian!
Translations are from here
In Russian:
Наконец-то я сделал этот мод который добавляет в игру Русский язык!

Этот мод добавляет в игру русский перевод.Пожалуйста поменяйте язык на русский в настройках GooTool-а. К сожаленью я не смог воссоздать оригинальный шрифт игры так-что я использовал другой. Извините за это неудобство. Не используйте этот мод если в вашей игре уже имеется русский. Этот мод предназначен только для не-русской сборки игры.
Перевод находится здесь
Version 2.0 released with new more goo-ish fonts!!!
For some odd reasons I can't upload the addin, so here,
have a Dropbox link.
P.S. Enjoy!!!