World of Goo Language Packs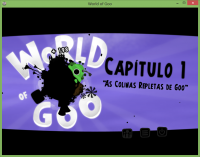 Author:
Mygod
Total downloads: 9,022
Latest version: 1.2
Release date: 03/16/2013 - 05:13
From the closing World of Goo Community Wiki.
The following languages are included:
Brazilian Portuguese
Catalan
Czech
Dutch
Esperanto
English of course
Finnish
French
German
Hungarian
Italian
Polish
Portuguese
Slovak
Spanish
Swedish
You can also download these language packs if you want:
Issues:
These language translations for tutorial posts are in the wrong format: Czech [cs], Polish [pl], Slovak [sk], Swedish [sv].
The font for tutorial post does not support some of the characters.
Too bad, Georgian language patch is gone.
Changelog: See comments below.