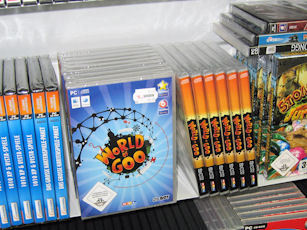 It's been a while since I've posted, what with work, a significant birthday (I'm now officially old) and a rather nasty rootkit trojan. So here's a quick update.
First off is a treat from spazturtle: Santa hats for your Goo Balls and a wintry World of Goo Corporation. Mod available at http://goofans.com/download
World of Goo is now out in some stores in Germany a day early, although unfortunately tucked away in the budget section. I bought some copies anyway to teach them a lesson. The moon chapter is conspicuously absent. Hopefully it'll be available in a sequel or download at a later date.
Read on for more.