Cartoony Gooballs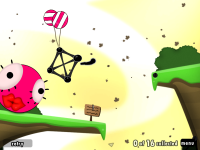 Authors:
TheGooMasters
,
Nalar
,
tacomann13
Total downloads: 2,556
Latest version: 2.2
Release date: 01/04/2011 - 16:29
After adding the DNA of various cartoon TV show characters, the Goo Balls now look like cartoons! (black outlines, solid color, etc.) If splats are changed for a ball, they will have this symbol if their splat has been changed: -=) (because it looks like a splat) and this if the detachstrand has been changed: =--
This changes the following gooballs:
All of the original gooballs (yes ALL of them, at least the ones with pictures)
Lemon (from the Sandbox: NO LIMITS!) =-- -=)
Sandbox_Gold (also from the Sandbox: NO LIMITS!)
Ice (from Oil Spill) =-- -=)
Oily Fuse (also from Oil Spill) -=)
common_Pink =-- -=)
ALL of the Metal Balls featured in the Metal Levels (now Metal WoG) and Metal Sandbox! [NEW!!!]
Those Goos from TM13's View of the World of Goo! [Courtesy of TM13 himself!] [NEW!!!]
Graphics made with paint.NET
If you have any suggestions, please comment.
If you want to use these pictures found in this addin then you are welcome to use them in your own addins.
The Cartoony Theme now effects (in the BETA version):
MapWorldView (the main menu, as some know it)
AND... the entire contents of.... THE GOO FILLED HILLS!!!
Chapter Icons (when you enter a level)!
ALL normal pipes!!!
IN PROGRESS: Little Miss World of Goo (yes the whole chapter with all of the levels)
This is currently an abandoned project. I might get back to it later, but I just don't like GIMP on the Mac. It's.....weird. I don't even see an undo button!
There are 2 current downloads.