World of Goo: The Unknown World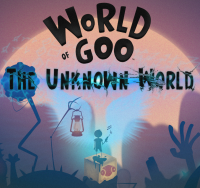 Author:
Toxic Goo
Total downloads: 0
Updated: Sun, 03/13/2022 - 16:15
Introduction
This is an unofficial version of World of Goo 2008
Toxic Goo presents World of Goo: The Unknown World!
A direct sequel to BOTH World of Goo 1/2 AND Lost In Paradise!
World of Goo: The Unknown World is a free, downloadable modification of the popular puzzle-based physics game, World of Goo! This unofficial sequel expands upon the storyline of the main game, and includes many new and challenging gameplay mechanics. You receive an S.O.S. that guides you to an entirely new, supposedly undiscovered planet. Upon landing, however, your ship is completely destroyed. Your main objective while passing through these new areas is to recover the lost ship parts and escape. However, you simultaneously try to crack the mystery of what happened to this bizarre place. You discover that it may not be as "undiscovered" as you may think, as you find tragic remnants of ancient unknown civilizations, nearly completely overgrown by nature and plagued with malevolent monsters and twisted abominations.
There will be a total of 156 levels to play (25 campaign levels and 1 optional level per chapter, with chapter 5 being around double the size). During your playthrough, you are never force-fed the lore, but there is certainly plenty to discover and theorize on your own, darker the more you divulge.
Download Chapter 1 here!:
https://drive.google.com/file/d/1Zo_OyAThVOlcslAyO8bQcKkecDNYEDFz/view?u...
Other Relevant Links
Soundcloud OST link: https://soundcloud.com/toxic-goo-382684673
UKW Wiki link: https://world-of-goo-the-unknown-world.fandom.com/wiki/World_of_Goo:_The...
Play The Previous Addins!
Unknown World is part of Gooey Goo and Toxic Goo's connected gooverse! Make sure you played the two previous addins that led up to this one! It is a double sequel, after all...
Gooey Goo:
World of Goo 1/2:
http://goofans.com/download/chapter/world-of-goo-12-unofficial-sequel
Toxic Goo:
World of Goo Lost In Paradise:
http://goofans.com/download/chapter/world-of-goo-lost-paradise
There are no downloads available.