Escape from the Factory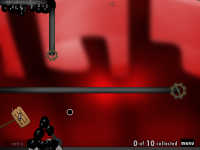 Author:
TheGooMasters
Total downloads: 1,331
Latest version: 1.0 [FIXED]
Release date: 10/11/2010 - 02:49
Try to free the GooProduct from the Factory using my custom goo!
Featuring:
DragBalloon - Drag that Detachstrand to Drag the ball!
RopeGoo - Really long strand... walks really fast... and can go virtually anywhere when attached!
Credits to FloatingFish88 for the RopeGoo images (Pulley System).
And credits to myself (yes ME) for making this level and the image for the DragBalloon goo.
You may also notice that I made the most of the small default level size in the WoG Editor (a.k.a. WooGLE).
Also: Credits to ExGT (short for ExchangeGOOTent) for the DragVirus, of which taught me how to make the DragBalloon.
Also, if you would like to make other levels with these new goos, please give me credit. And let me know first, too.
There is 1 current download.