Fire Bridge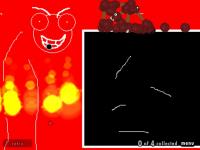 Author:
inwog
Total downloads: 1,305
Latest version: 0.1.0
Release date: 04/21/2010 - 17:23
My 2nd single level addin. (the first one is Bridge Building Across the Cliff) Your objective is to build down to the pipe, avoid the fire wall because that's the obstacle.
This level can translate into English, Dutch, French, German, Italian, Polish, Russian and Spanish. The graphics are made by MS Paint just like dwerdwer's jump level.
This addin has 2 levels, but didn't join together in one goomod. The Easy Version and the Hard Version. still the same OCD. The difference between these two is the fire is set to 125 circumference and the number of goo balls needed to collect.
Made by inwog.
Goal: 4 Goos (for easy version) 8 Goos (for hard version)
OCD: 90 Seconds (1 minute and 30 seconds)
There are 2 current downloads.