Fly Her to the Moon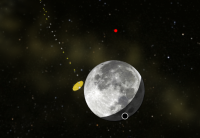 Author:
XDboy
Total downloads: 10,701
Latest version: 0.3
Release date: 07/01/2009 - 20:16
It's a small turn for Beauty Goo, but a revolution for Gookind!
The level with too much space-time, and glowing Antigrav-Water-Goo!
Level design: XDboy
Graphics: Kyle Gabler, XDboy, Google, NASA
Music: Cobalt Blue Sphere by PianoForte from newgrounds.com
Thanks to 2D Boy, David Croft, zark92, PianoForte and Elfe!
...the final frontier.
Ever since she was a little Goo Bally, she's dreaming of travelling to the Moon.
Now you have the opportunity to make her dream come true!
May the force of gravity be with you!
- the weightless Sign Painter
Space...
Once upon a time, i started a thread at 2D Boy's forum to get help to make this level better. Since then, not much has changed, it's still not perfect. But i finally came around to publish it anyway, since it's -even in the current form- not the lamest level around here.

Known Bug:
Sometimes the ballbuster (the thing that blasts Beauty to pieces) doesn't work. Try moving Beauty Goo a bit. Most likely it will work when it touches her the next time, then.
There is 1 current download.