Horizontal Transportation Innovation Committee
End of the World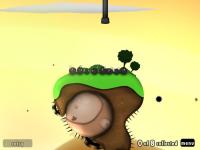 Normal: 8 balls
OCD: 40 balls
Previous level:
Infesty the Worm
.
Next level:
Observatory Observation Station
.
blue sky smackdown
Signposts
The raw, scientifically pure Goo is all that's left.
But they appear to be filled with hope and ambition!
I remember when I used to have hope and ambition.
Of course, they will never be able to build a bridge.
It's probably best to skip this area and never come back.
Nobody will even notice.
-but the Sign Painter will know
The pipe is over that way.
But no one will ever get to it.
-the well adjusted Sign Painter
You need Flash player 8+ and JavaScript enabled to view this video.
World of Goo OCD+8 - Horizontal Transportation Innovation Committee (48 balls)
by davidc32346.
Rating: 0.00.

There is 1 video.
<level

 

ballsrequired

=

"8"

 

letterboxed

=

"false"

 

visualdebug

=

"false"

 

autobounds

=

"false"

 

textcolor

=

"255,255,255"

 

texteffects

=

"true"

 

timebugprobability

=

"0.333"

 

strandgeom

=

"false"

 

allowskip

=

"true"

 

>


 
	

<!-- Camera -->


	

<camera

 

aspect

=

"normal"

 

endpos

=

"-14.47,805.11"

 

endzoom

=

"0.381"

>


		

<poi

 

pos

=

"781.91,676.59"

 

traveltime

=

"0"

 

pause

=

"0"

 

zoom

=

"0.65"

 

/>


		

<poi

 

pos

=

"19.69,945.96"

 

traveltime

=

"4"

 

pause

=

"0.8"

 

zoom

=

"0.321"

 

/>


		

<poi

 

pos

=

"-771.96,659.98"

 

traveltime

=

"4"

 

pause

=

"0"

 

zoom

=

"0.746"

 

/>


	</camera

>


	

<camera

 

aspect

=

"widescreen"

 

endpos

=

"-10,711.58"

 

endzoom

=

"0.509"

>


		

<poi

 

pos

=

"558.09,676.59"

 

traveltime

=

"0"

 

pause

=

"0"

 

zoom

=

"0.65"

 

/>


		

<poi

 

pos

=

"0,945.96"

 

traveltime

=

"4"

 

pause

=

"0.8"

 

zoom

=

"0.391"

 

/>


		

<poi

 

pos

=

"-666.31,659.98"

 

traveltime

=

"4"

 

pause

=

"0"

 

zoom

=

"0.746"

 

/>


	</camera

>


 
	

<!-- Music -->


	

<music

 

id

=

"SOUND_LEVEL_HTINNOVATIONCOMMITTEE_TEMP_ISLANDAM"

 

/>


 
	

<!-- Loop Sound -->


	

<loopsound

 

id

=

"SOUND_LEVEL_HTINNOVATIONCOMMITTEE_LOOP_SUPERBIRDS"

 

/>


 
	

<!-- Fire -->


 
	

<!-- Signposts -->


		

<signpost

 

name

=

"signpost_brown"

 

depth

=

"-8"

 

x

=

"-652.84"

 

y

=

"450.3"

 

scalex

=

"0.89"

 

scaley

=

"0.987"

 

rotation

=

"-105.52"

 

alpha

=

"1"

 

colorize

=

"255,255,255"

 

image

=

"IMAGE_SCENE_HTINNOVATIONCOMMITTEE_SIGNPOST_BROWN"

 

text

=

"SIGNPOST_HTINNOVATIONCOMMITTEE_1"

   

/>


		

<signpost

 

name

=

"signpost_brown"

 

depth

=

"-160"

 

x

=

"-832.18"

 

y

=

"2119.39"

 

scalex

=

"0.89"

 

scaley

=

"0.987"

 

rotation

=

"-14.99"

 

alpha

=

"1"

 

colorize

=

"255,255,255"

 

image

=

"IMAGE_SCENE_HTINNOVATIONCOMMITTEE_SIGNPOST_BROWN"

 

text

=

"SIGNPOST_HTINNOVATIONCOMMITTEE_2"

   

/>


 
	

<!-- Pipes -->


	

<pipe

 

id

=

"0"

 

depth

=

"0"

 

>


		

<Vertex

 

x

=

"813"

 

y

=

"1037"

 

/>


		

<Vertex

 

x

=

"813"

 

y

=

"1368"

 

/>


		

<Vertex

 

x

=

"888"

 

y

=

"1368"

 

/>


		

<Vertex

 

x

=

"888"

 

y

=

"1443"

 

/>


		

<Vertex

 

x

=

"763"

 

y

=

"1443"

 

/>


		

<Vertex

 

x

=

"763"

 

y

=

"1620"

 

/>


		

<Vertex

 

x

=

"865"

 

y

=

"1620"

 

/>


		

<Vertex

 

x

=

"865"

 

y

=

"2430"

 

/>


	</pipe

>


 
	

<!-- Balls -->


	

<BallInstance

 

type

=

"balloon"

 

x

=

"-797"

 

y

=

"675"

 

id

=

"0"

 

angle

=

"0"

 

/>


	

<BallInstance

 

type

=

"common"

 

x

=

"910"

 

y

=

"783"

 

id

=

"1"

 

discovered

=

"false"

 

angle

=

"0"

 

/>


	

<BallInstance

 

type

=

"common"

 

x

=

"873"

 

y

=

"783"

 

id

=

"2"

 

discovered

=

"false"

 

angle

=

"0"

 

/>


	

<BallInstance

 

type

=

"common"

 

x

=

"833"

 

y

=

"783"

 

id

=

"3"

 

discovered

=

"false"

 

angle

=

"0"

 

/>


	

<BallInstance

 

type

=

"common"

 

x

=

"799"

 

y

=

"783"

 

id

=

"4"

 

discovered

=

"false"

 

angle

=

"0"

 

/>


	

<BallInstance

 

type

=

"common"

 

x

=

"755"

 

y

=

"783"

 

id

=

"5"

 

discovered

=

"false"

 

angle

=

"0"

 

/>


	

<BallInstance

 

type

=

"common"

 

x

=

"714"

 

y

=

"783"

 

id

=

"6"

 

discovered

=

"false"

 

angle

=

"0"

 

/>


	

<BallInstance

 

type

=

"common"

 

x

=

"677"

 

y

=

"782"

 

id

=

"7"

 

discovered

=

"false"

 

angle

=

"0"

 

/>


	

<BallInstance

 

type

=

"common"

 

x

=

"638.5"

 

y

=

"782.5"

 

id

=

"8"

 

discovered

=

"false"

 

angle

=

"0"

 

/>


	

<BallInstance

 

type

=

"GooProduct"

 

x

=

"-914"

 

y

=

"813"

 

id

=

"9"

 

angle

=

"0"

 

/>


	

<BallInstance

 

type

=

"GooProduct"

 

x

=

"-848"

 

y

=

"817"

 

id

=

"10"

 

angle

=

"0"

 

/>


	

<BallInstance

 

type

=

"GooProduct"

 

x

=

"-788.24"

 

y

=

"979.18"

 

id

=

"11"

 

angle

=

"0"

 

/>


	

<BallInstance

 

type

=

"GooProduct"

 

x

=

"-773.24"

 

y

=

"916.17"

 

id

=

"12"

 

angle

=

"0"

 

/>


	

<BallInstance

 

type

=

"GooProduct"

 

x

=

"-869.25"

 

y

=

"922.17"

 

id

=

"13"

 

angle

=

"0"

 

/>


	

<BallInstance

 

type

=

"GooProduct"

 

x

=

"-784"

 

y

=

"566"

 

id

=

"14"

 

angle

=

"0"

 

/>


	

<BallInstance

 

type

=

"GooProduct"

 

x

=

"-901"

 

y

=

"673"

 

id

=

"15"

 

angle

=

"0"

 

/>


	

<BallInstance

 

type

=

"GooProduct"

 

x

=

"-831"

 

y

=

"621"

 

id

=

"16"

 

angle

=

"0"

 

/>


	

<BallInstance

 

type

=

"AnchorSticky"

 

x

=

"-709.33"

 

y

=

"572.67"

 

id

=

"17"

 

angle

=

"0"

 

/>


	

<BallInstance

 

type

=

"common"

 

x

=

"-823"

 

y

=

"932"

 

id

=

"18"

 

angle

=

"0"

 

/>


	

<BallInstance

 

type

=

"common"

 

x

=

"-955"

 

y

=

"567"

 

id

=

"19"

 

angle

=

"0"

 

/>


	

<BallInstance

 

type

=

"common"

 

x

=

"-796"

 

y

=

"644"

 

id

=

"20"

 

angle

=

"0"

 

/>


	

<BallInstance

 

type

=

"common"

 

x

=

"-797"

 

y

=

"792"

 

id

=

"21"

 

angle

=

"0"

 

/>


	

<BallInstance

 

type

=

"common"

 

x

=

"-829"

 

y

=

"715"

 

id

=

"22"

 

angle

=

"0"

 

/>


	

<BallInstance

 

type

=

"common"

 

x

=

"-861"

 

y

=

"713"

 

id

=

"23"

 

angle

=

"0"

 

/>


	

<BallInstance

 

type

=

"common"

 

x

=

"-754"

 

y

=

"568"

 

id

=

"24"

 

angle

=

"0"

 

/>


	

<BallInstance

 

type

=

"common"

 

x

=

"-861"

 

y

=

"637"

 

id

=

"25"

 

angle

=

"0"

 

/>


	

<BallInstance

 

type

=

"common"

 

x

=

"-832"

 

y

=

"601"

 

id

=

"26"

 

angle

=

"0"

 

/>


	

<BallInstance

 

type

=

"common"

 

x

=

"-882"

 

y

=

"569"

 

id

=

"27"

 

angle

=

"0"

 

/>


	

<BallInstance

 

type

=

"common"

 

x

=

"-755"

 

y

=

"712"

 

id

=

"28"

 

angle

=

"0"

 

/>


	

<BallInstance

 

type

=

"common"

 

x

=

"-748"

 

y

=

"758"

 

id

=

"29"

 

angle

=

"0"

 

/>


	

<BallInstance

 

type

=

"common"

 

x

=

"-889"

 

y

=

"705"

 

id

=

"30"

 

angle

=

"0"

 

/>


	

<BallInstance

 

type

=

"common"

 

x

=

"-828"

 

y

=

"639"

 

id

=

"31"

 

angle

=

"0"

 

/>


	

<BallInstance

 

type

=

"common"

 

x

=

"-897"

 

y

=

"852"

 

id

=

"32"

 

angle

=

"0"

 

/>


	

<BallInstance

 

type

=

"common"

 

x

=

"-800"

 

y

=

"752"

 

id

=

"33"

 

angle

=

"0"

 

/>


	

<BallInstance

 

type

=

"common"

 

x

=

"-866"

 

y

=

"671"

 

id

=

"34"

 

angle

=

"0"

 

/>


	

<BallInstance

 

type

=

"common"

 

x

=

"-722"

 

y

=

"616"

 

id

=

"35"

 

angle

=

"0"

 

/>


	

<BallInstance

 

type

=

"common"

 

x

=

"-738"

 

y

=

"814"

 

id

=

"36"

 

angle

=

"0"

 

/>


	

<BallInstance

 

type

=

"common"

 

x

=

"-935"

 

y

=

"747"

 

id

=

"37"

 

angle

=

"0"

 

/>


	

<BallInstance

 

type

=

"common"

 

x

=

"-795"

 

y

=

"820"

 

id

=

"38"

 

angle

=

"0"

 

/>


	

<BallInstance

 

type

=

"common"

 

x

=

"-832"

 

y

=

"901"

 

id

=

"39"

 

angle

=

"0"

 

/>


	

<BallInstance

 

type

=

"common"

 

x

=

"-868"

 

y

=

"843"

 

id

=

"40"

 

angle

=

"0"

 

/>


	

<BallInstance

 

type

=

"common"

 

x

=

"-873"

 

y

=

"778"

 

id

=

"41"

 

angle

=

"0"

 

/>


	

<BallInstance

 

type

=

"common"

 

x

=

"-829"

 

y

=

"866"

 

id

=

"42"

 

angle

=

"0"

 

/>


	

<BallInstance

 

type

=

"common"

 

x

=

"-859"

 

y

=

"869"

 

id

=

"43"

 

angle

=

"0"

 

/>


	

<BallInstance

 

type

=

"common"

 

x

=

"-799"

 

y

=

"876"

 

id

=

"44"

 

angle

=

"0"

 

/>


	

<BallInstance

 

type

=

"common"

 

x

=

"-768"

 

y

=

"838"

 

id

=

"45"

 

angle

=

"0"

 

/>


	

<BallInstance

 

type

=

"common"

 

x

=

"-820"

 

y

=

"834"

 

id

=

"46"

 

angle

=

"0"

 

/>


	

<BallInstance

 

type

=

"common"

 

x

=

"-881"

 

y

=

"812"

 

id

=

"47"

 

angle

=

"0"

 

/>


	

<BallInstance

 

type

=

"common"

 

x

=

"-913"

 

y

=

"773"

 

id

=

"48"

 

angle

=

"0"

 

/>


	

<BallInstance

 

type

=

"common"

 

x

=

"-729"

 

y

=

"704"

 

id

=

"49"

 

angle

=

"0"

 

/>


	

<BallInstance

 

type

=

"common"

 

x

=

"-927"

 

y

=

"601"

 

id

=

"50"

 

angle

=

"0"

 

/>


	

<BallInstance

 

type

=

"common"

 

x

=

"-794"

 

y

=

"708"

 

id

=

"51"

 

angle

=

"0"

 

/>


	

<BallInstance

 

type

=

"common"

 

x

=

"-830"

 

y

=

"758"

 

id

=

"52"

 

angle

=

"0"

 

/>


	

<BallInstance

 

type

=

"common"

 

x

=

"-769"

 

y

=

"622"

 

id

=

"53"

 

angle

=

"0"

 

/>


	

<BallInstance

 

type

=

"common"

 

x

=

"-737"

 

y

=

"647"

 

id

=

"54"

 

angle

=

"0"

 

/>


	

<BallInstance

 

type

=

"common"

 

x

=

"-772"

 

y

=

"671"

 

id

=

"55"

 

angle

=

"0"

 

/>


	

<BallInstance

 

type

=

"common"

 

x

=

"-918"

 

y

=

"569"

 

id

=

"56"

 

angle

=

"0"

 

/>


	

<BallInstance

 

type

=

"common"

 

x

=

"-923"

 

y

=

"700"

 

id

=

"57"

 

angle

=

"0"

 

/>


	

<BallInstance

 

type

=

"common"

 

x

=

"-871"

 

y

=

"749"

 

id

=

"58"

 

angle

=

"0"

 

/>


	

<BallInstance

 

type

=

"common"

 

x

=

"-951.33"

 

y

=

"791"

 

id

=

"59"

 

angle

=

"0"

 

/>


	

<BallInstance

 

type

=

"common"

 

x

=

"-769.33"

 

y

=

"795"

 

id

=

"60"

 

angle

=

"0"

 

/>


	

<BallInstance

 

type

=

"common"

 

x

=

"-712"

 

y

=

"746"

 

id

=

"61"

 

angle

=

"0"

 

/>


	

<BallInstance

 

type

=

"common"

 

x

=

"-829"

 

y

=

"789"

 

id

=

"62"

 

angle

=

"0"

 

/>


	

<BallInstance

 

type

=

"common"

 

x

=

"-712.33"

 

y

=

"788.33"

 

id

=

"63"

 

angle

=

"0"

 

/>


	

<BallInstance

 

type

=

"common"

 

x

=

"-745"

 

y

=

"599"

 

id

=

"64"

 

angle

=

"0"

 

/>


	

<BallInstance

 

type

=

"common"

 

x

=

"-797"

 

y

=

"598"

 

id

=

"65"

 

angle

=

"0"

 

/>


	

<BallInstance

 

type

=

"common"

 

x

=

"-868"

 

y

=

"597"

 

id

=

"66"

 

angle

=

"0"

 

/>


	

<BallInstance

 

type

=

"common"

 

x

=

"-926"

 

y

=

"675"

 

id

=

"67"

 

angle

=

"0"

 

/>


	

<BallInstance

 

type

=

"common"

 

x

=

"-908"

 

y

=

"723"

 

id

=

"68"

 

angle

=

"0"

 

/>


	

<BallInstance

 

type

=

"common"

 

x

=

"-920"

 

y

=

"645"

 

id

=

"69"

 

angle

=

"0"

 

/>


	

<BallInstance

 

type

=

"common"

 

x

=

"-894"

 

y

=

"621"

 

id

=

"70"

 

angle

=

"0"

 

/>


	

<BallInstance

 

type

=

"common"

 

x

=

"-953"

 

y

=

"671"

 

id

=

"71"

 

angle

=

"0"

 

/>


	

<BallInstance

 

type

=

"common"

 

x

=

"-712.33"

 

y

=

"667.67"

 

id

=

"72"

 

angle

=

"0"

 

/>


	

<BallInstance

 

type

=

"common"

 

x

=

"-831"

 

y

=

"667"

 

id

=

"73"

 

angle

=

"0"

 

/>


	

<BallInstance

 

type

=

"common"

 

x

=

"-833"

 

y

=

"567"

 

id

=

"74"

 

angle

=

"0"

 

/>


 
	

<!-- Arms -->


	

<Strand

 

gb1

=

"71"

 

gb2

=

"62"

 

/>


	

<Strand

 

gb1

=

"59"

 

gb2

=

"62"

 

/>


	

<Strand

 

gb1

=

"62"

 

gb2

=

"63"

 

/>


	

<Strand

 

gb1

=

"71"

 

gb2

=

"59"

 

/>


	

<Strand

 

gb1

=

"73"

 

gb2

=

"62"

 

/>


	

<Strand

 

gb1

=

"63"

 

gb2

=

"73"

 

/>


	

<Strand

 

gb1

=

"72"

 

gb2

=

"63"

 

/>


	

<Strand

 

gb1

=

"59"

 

gb2

=

"73"

 

/>


	

<Strand

 

gb1

=

"62"

 

gb2

=

"72"

 

/>


	

<Strand

 

gb1

=

"73"

 

gb2

=

"17"

 

/>


	

<Strand

 

gb1

=

"74"

 

gb2

=

"72"

 

/>


	

<Strand

 

gb1

=

"17"

 

gb2

=

"74"

 

/>


	

<Strand

 

gb1

=

"72"

 

gb2

=

"17"

 

/>


	

<Strand

 

gb1

=

"73"

 

gb2

=

"72"

 

/>


	

<Strand

 

gb1

=

"71"

 

gb2

=

"19"

 

/>


	

<Strand

 

gb1

=

"73"

 

gb2

=

"71"

 

/>


	

<Strand

 

gb1

=

"74"

 

gb2

=

"73"

 

/>


	

<Strand

 

gb1

=

"19"

 

gb2

=

"74"

 

/>


	

<Strand

 

gb1

=

"71"

 

gb2

=

"74"

 

/>


 
	

<!-- Level Exit -->


	

<levelexit

 

id

=

"theExit"

 

pos

=

"813,1037"

 

radius

=

"75"

 

filter

=

""

 

>


	</levelexit

>


 
</level

>
<scene

 

minx

=

"-1400"

 

miny

=

"0"

 

maxx

=

"1400"

 

maxy

=

"2400"

 

backgroundcolor

=

"0,0,0"

 

>


 
	

<!-- ForceFields -->


	

<linearforcefield

 

id

=

"helper1"

 

type

=

"gravity"

 

center

=

"-1219.8054,1209.1514"

 

width

=

"363.0317"

 

height

=

"2418.3027"

 

force

=

"5,2"

 

dampeningfactor

=

"0"

 

antigrav

=

"false"

 

geomonly

=

"false"

 

enabled

=

"true"

 

water

=

"false"

 

/>


	

<linearforcefield

 

type

=

"gravity"

 

force

=

"0,-10"

 

dampeningfactor

=

"0.5"

 

antigrav

=

"true"

 

geomonly

=

"false"

 

/>


 
	

<!-- Particles -->


	

<particles

 

effect

=

"bigleaves1"

 

depth

=

"240"

 

pretick

=

"0"

 

/>


	

<particles

 

effect

=

"smallleaves1"

 

depth

=

"-240"

 

pretick

=

"0"

 

/>


 
	

<!-- SceneLayers -->


	

<SceneLayer

 

name

=

"lf2"

 

depth

=

"160"

 

x

=

"492.1"

 

y

=

"856.06"

 

scalex

=

"7.03"

 

scaley

=

"7.03"

 

rotation

=

"0"

 

alpha

=

"0.30000001192093"

 

colorize

=

"255,255,255"

 

image

=

"IMAGE_SCENE_HTINNOVATIONCOMMITTEE_LF2"

   

/>


	

<SceneLayer

 

name

=

"lf2"

 

depth

=

"160"

 

x

=

"-604"

 

y

=

"742.06"

 

scalex

=

"7.03"

 

scaley

=

"7.03"

 

rotation

=

"0"

 

alpha

=

"0.40000000596046"

 

colorize

=

"255,255,255"

 

image

=

"IMAGE_SCENE_HTINNOVATIONCOMMITTEE_LF2"

   

/>


	

<SceneLayer

 

name

=

"p2"

 

depth

=

"0"

 

x

=

"771.01"

 

y

=

"385.95"

 

scalex

=

"1.04"

 

scaley

=

"1.528"

 

rotation

=

"0"

 

alpha

=

"1"

 

colorize

=

"255,255,255"

 

image

=

"IMAGE_SCENE_HTINNOVATIONCOMMITTEE_P2"

   

/>


	

<SceneLayer

 

name

=

"p1"

 

depth

=

"0"

 

x

=

"-830.73"

 

y

=

"277.32"

 

scalex

=

"1"

 

scaley

=

"1.092"

 

rotation

=

"0"

 

alpha

=

"1"

 

colorize

=

"255,255,255"

 

image

=

"IMAGE_SCENE_HTINNOVATIONCOMMITTEE_P1"

   

/>


		

<SceneLayer

 

name

=

"gear1blur"

 

depth

=

"-8"

 

x

=

"769.92"

 

y

=

"443.75"

 

scalex

=

"0.795"

 

scaley

=

"0.795"

 

rotation

=

"0"

 

alpha

=

"1"

 

colorize

=

"0,0,0"

 

image

=

"IMAGE_SCENE_HTINNOVATIONCOMMITTEE_GEAR1BLUR"

 

anim

=

"rot_1rps"

 

animspeed

=

"1"

   

/>


		

<SceneLayer

 

name

=

"gear1blur"

 

depth

=

"-8"

 

x

=

"577.25"

 

y

=

"587.08"

 

scalex

=

"0.471"

 

scaley

=

"0.471"

 

rotation

=

"0"

 

alpha

=

"1"

 

colorize

=

"0,0,0"

 

image

=

"IMAGE_SCENE_HTINNOVATIONCOMMITTEE_GEAR1BLUR"

 

anim

=

"rot_1rps"

 

animspeed

=

"1"

   

/>


		

<SceneLayer

 

name

=

"gear1blur"

 

depth

=

"-8"

 

x

=

"-816.75"

 

y

=

"355.75"

 

scalex

=

"0.471"

 

scaley

=

"0.471"

 

rotation

=

"0"

 

alpha

=

"1"

 

colorize

=

"0,0,0"

 

image

=

"IMAGE_SCENE_HTINNOVATIONCOMMITTEE_GEAR1BLUR"

 

anim

=

"rot_1rps"

 

animspeed

=

"-1"

   

/>


		

<SceneLayer

 

name

=

"gear1blur"

 

depth

=

"-8"

 

x

=

"-708"

 

y

=

"483.5"

 

scalex

=

"0.342"

 

scaley

=

"0.342"

 

rotation

=

"0"

 

alpha

=

"1"

 

colorize

=

"0,0,0"

 

image

=

"IMAGE_SCENE_HTINNOVATIONCOMMITTEE_GEAR1BLUR"

 

anim

=

"rot_1rps"

 

animspeed

=

"-1"

   

/>


	

<SceneLayer

 

name

=

"bush_leafy_1"

 

depth

=

"-8"

 

x

=

"804.26"

 

y

=

"766.37"

 

scalex

=

"0.985"

 

scaley

=

"0.931"

 

rotation

=

"12.77"

 

alpha

=

"1"

 

colorize

=

"255,255,255"

 

image

=

"IMAGE_SCENE_HTINNOVATIONCOMMITTEE_BUSH_LEAFY_1"

   

/>


	

<SceneLayer

 

name

=

"bush_leafy_1"

 

depth

=

"-8"

 

x

=

"-869.15"

 

y

=

"570.96"

 

scalex

=

"0.808"

 

scaley

=

"0.808"

 

rotation

=

"2.45"

 

alpha

=

"1"

 

colorize

=

"255,255,255"

 

image

=

"IMAGE_SCENE_HTINNOVATIONCOMMITTEE_BUSH_LEAFY_1"

   

/>


	

<SceneLayer

 

name

=

"tree_sil_1"

 

depth

=

"-8.8"

 

x

=

"967.61"

 

y

=

"799.61"

 

scalex

=

"0.44"

 

scaley

=

"0.44"

 

rotation

=

"-33.31"

 

alpha

=

"1"

 

colorize

=

"255,255,255"

 

image

=

"IMAGE_SCENE_HTINNOVATIONCOMMITTEE_TREE_SIL_1"

   

/>


	

<SceneLayer

 

name

=

"tree_sil_1"

 

depth

=

"-8.8"

 

x

=

"919.11"

 

y

=

"843.59"

 

scalex

=

"0.665"

 

scaley

=

"0.665"

 

rotation

=

"-8.05"

 

alpha

=

"1"

 

colorize

=

"255,255,255"

 

image

=

"IMAGE_SCENE_HTINNOVATIONCOMMITTEE_TREE_SIL_1"

   

/>


		

<SceneLayer

 

name

=

"signpostPole_brown"

 

depth

=

"-8.8"

 

x

=

"-671.52"

 

y

=

"459.57"

 

scalex

=

"1"

 

scaley

=

"1.074"

 

rotation

=

"-103.4"

 

alpha

=

"1"

 

colorize

=

"255,255,255"

 

image

=

"IMAGE_SCENE_HTINNOVATIONCOMMITTEE_SIGNPOSTPOLE_BROWN"

   

/>


	

<SceneLayer

 

name

=

"bg_hills_bleeding"

 

depth

=

"-400"

 

x

=

"-42.05"

 

y

=

"169.62"

 

scalex

=

"5.429"

 

scaley

=

"5.241"

 

rotation

=

"3.79"

 

alpha

=

"1"

 

colorize

=

"255,255,255"

 

image

=

"IMAGE_SCENE_HTINNOVATIONCOMMITTEE_BG_HILLS_BLEEDING"

   

/>


		

<SceneLayer

 

name

=

"wogcCloud2"

 

depth

=

"-160"

 

x

=

"737.89"

 

y

=

"487.97"

 

scalex

=

"1.399"

 

scaley

=

"1"

 

rotation

=

"0"

 

alpha

=

"1"

 

colorize

=

"255,255,255"

 

image

=

"IMAGE_SCENE_HTINNOVATIONCOMMITTEE_WOGCCLOUD2"

   

/>


		

<SceneLayer

 

name

=

"wogcCloud2"

 

depth

=

"-320"

 

x

=

"-1042.76"

 

y

=

"764"

 

scalex

=

"3.497"

 

scaley

=

"1"

 

rotation

=

"0"

 

alpha

=

"1"

 

colorize

=

"255,255,255"

 

image

=

"IMAGE_SCENE_HTINNOVATIONCOMMITTEE_WOGCCLOUD2"

   

/>


		

<SceneLayer

 

name

=

"wogcCloud2"

 

depth

=

"-160"

 

x

=

"618.42"

 

y

=

"1193.04"

 

scalex

=

"3.497"

 

scaley

=

"1"

 

rotation

=

"0"

 

alpha

=

"1"

 

colorize

=

"255,255,255"

 

image

=

"IMAGE_SCENE_HTINNOVATIONCOMMITTEE_WOGCCLOUD2"

   

/>


		

<SceneLayer

 

name

=

"wogcCloud2"

 

depth

=

"-160"

 

x

=

"-912.48"

 

y

=

"2035.11"

 

scalex

=

"3.497"

 

scaley

=

"1"

 

rotation

=

"0"

 

alpha

=

"1"

 

colorize

=

"255,255,255"

 

image

=

"IMAGE_SCENE_HTINNOVATIONCOMMITTEE_WOGCCLOUD2"

   

/>


		

<SceneLayer

 

name

=

"signpostPole_brown"

 

depth

=

"-168"

 

x

=

"-839.27"

 

y

=

"2098.58"

 

scalex

=

"1"

 

scaley

=

"1.074"

 

rotation

=

"-12.88"

 

alpha

=

"1"

 

colorize

=

"255,255,255"

 

image

=

"IMAGE_SCENE_HTINNOVATIONCOMMITTEE_SIGNPOSTPOLE_BROWN"

   

/>


	

<SceneLayer

 

name

=

"bg"

 

depth

=

"-560"

 

x

=

"0.01"

 

y

=

"1165.55"

 

scalex

=

"10.949"

 

scaley

=

"8.394"

 

rotation

=

"0"

 

alpha

=

"1"

 

colorize

=

"255,255,255"

 

image

=

"IMAGE_SCENE_HTINNOVATIONCOMMITTEE_BG"

   

/>


 
	

<!-- Buttons -->


 
	

<!-- Labels -->


 
	

<!-- Static Geometry -->


	

<compositegeom

 

id

=

"killbottom2"

 

x

=

"761.9897"

 

y

=

"169.4004"

 

rotation

=

"0"

 

static

=

"true"

 

tag

=

"deadly"

 

material

=

"machine"

 

>


		

<rectangle

 

id

=

""

 

x

=

"93.5625"

 

y

=

"-273.5122"

 

width

=

"133.1035"

 

height

=

"407.1072"

 

rotation

=

"0.216"

 

/>


		

<rectangle

 

id

=

""

 

x

=

"75.4805"

 

y

=

"81.8789"

 

width

=

"157.327"

 

height

=

"248.8212"

 

rotation

=

"-0.4305"

 

/>


		

<rectangle

 

id

=

""

 

x

=

"121.0049"

 

y

=

"371.8472"

 

width

=

"147.8743"

 

height

=

"168.305"

 

rotation

=

"-0.6142"

 

/>


		

<rectangle

 

id

=

""

 

x

=

"-174.2373"

 

y

=

"400.6499"

 

width

=

"51.0002"

 

height

=

"135.0319"

 

rotation

=

"0.5202"

 

/>


		

<circle

 

id

=

""

 

x

=

"37.5103"

 

y

=

"-26.9004"

 

radius

=

"86.5"

 

/>


		

<circle

 

id

=

""

 

x

=

"-0.1562"

 

y

=

"264.0991"

 

radius

=

"69.8335"

 

/>


		

<circle

 

id

=

""

 

x

=

"107.5103"

 

y

=

"227.0996"

 

radius

=

"103.5"

 

/>


		

<circle

 

id

=

""

 

x

=

"-179.6562"

 

y

=

"417.9321"

 

radius

=

"49.3335"

 

/>


		

<circle

 

id

=

""

 

x

=

"-51.9897"

 

y

=

"365.5996"

 

radius

=

"121"

 

/>


	</compositegeom

>


	

<compositegeom

 

id

=

"p2"

 

x

=

"776"

 

y

=

"655"

 

rotation

=

"0"

 

static

=

"true"

 

tag

=

"walkable"

 

material

=

"sticky"

 

>


		

<circle

 

id

=

""

 

x

=

"126"

 

y

=

"0"

 

radius

=

"111"

 

/>


		

<circle

 

id

=

""

 

x

=

"-134.5"

 

y

=

"8.5"

 

radius

=

"102.5"

 

/>


		

<rectangle

 

id

=

""

 

x

=

"-0.5059"

 

y

=

"27"

 

width

=

"262.9883"

 

height

=

"168"

 

rotation

=

"0"

 

/>


	</compositegeom

>


	

<compositegeom

 

id

=

"killbottom"

 

x

=

"-824.7253"

 

y

=

"73.1831"

 

rotation

=

"0"

 

static

=

"true"

 

tag

=

"deadly"

 

material

=

"machine"

 

>


		

<rectangle

 

id

=

""

 

x

=

"0.687"

 

y

=

"-152.8306"

 

width

=

"101.9144"

 

height

=

"610.6521"

 

rotation

=

"-0.0883"

 

/>


		

<rectangle

 

id

=

""

 

x

=

"-6.7708"

 

y

=

"330.3169"

 

width

=

"85"

 

height

=

"203"

 

rotation

=

"0"

 

/>


		

<circle

 

id

=

""

 

x

=

"19.563"

 

y

=

"282.6499"

 

radius

=

"34.8331"

 

/>


		

<circle

 

id

=

""

 

x

=

"116.2295"

 

y

=

"410.6499"

 

radius

=

"34.8331"

 

/>


		

<circle

 

id

=

""

 

x

=

"-8.7708"

 

y

=

"168.3169"

 

radius

=

"84.5"

 

/>


		

<rectangle

 

id

=

""

 

x

=

"95.2861"

 

y

=

"402.4487"

 

width

=

"58.8929"

 

height

=

"82.4062"

 

rotation

=

"-0.5457"

 

/>


		

<rectangle

 

id

=

""

 

x

=

"39.1294"

 

y

=

"374.6182"

 

width

=

"108.1656"

 

height

=

"105.3026"

 

rotation

=

"0.4744"

 

/>


		

<rectangle

 

id

=

""

 

x

=

"-48.8701"

 

y

=

"343.6182"

 

width

=

"105.302"

 

height

=

"108.1658"

 

rotation

=

"-0.7171"

 

/>


		

<rectangle

 

id

=

""

 

x

=

"-84.5168"

 

y

=

"399.9497"

 

width

=

"108.1654"

 

height

=

"91.0963"

 

rotation

=

"0.3551"

 

/>


	</compositegeom

>


	

<rectangle

 

id

=

"p1"

 

static

=

"true"

 

tag

=

"walkable"

 

material

=

"rock"

 

x

=

"-831.9961"

 

y

=

"524"

 

width

=

"286"

 

height

=

"52"

 

rotation

=

"0"

 

/>


	

<line

 

id

=

"bottom"

 

static

=

"true"

 

tag

=

"deadly"

 

material

=

"rock"

 

anchor

=

"-242.9998,-254.4453"

 

normal

=

"0,1"

 

/>


 
	

<!-- Dynamic Geometry -->


 
	

<!-- Geometry Constraints -->


</scene

>