Observatory Observation Station
End of the World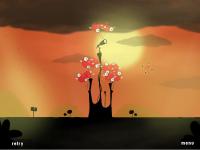 OCD: None
Previous levels:
Horizontal Transportation Innovation Committee
,
Weather Vane
.
No following level.
this is it!
This is the last official level in World of Goo, and involves a new species of Goo Balls which aren't used before, and functions as a balloon Goo Ball. This is the only level that doesn't have OCD criteria ("This one is mine. -the Sign Painter").
Walkthrough
Simply attach all of the available Goo Balls to the island. Once all the balls have been inflated, the island will float upwards and eventually take the player to the end and credits scene.
Bugs
If the player attaches all of the Goo Balls onto the top of the telescope and nowhere else, the telescope will fly off and the rest of the island will break up after it and rise upwards in an irregular fashion. This will still bring the player into the end and credits scene, although offers some entertainment during the process.
Signposts
The last of the Goo Balls were...
...
...uh oh...
...there aren't any more Goo Balls.
They must have all been sucked away by the pipe system...
All the Goo Balls from the entire world!
...all sucked up and sent to the former World of Goo Corporation campus...
...where they have been building a giant tower into the sky!
Probably a good thing too.
The telescope is useless anyway.
It's unable to see past that layer of smog and dust.
Well, without any more Goo Balls, I guess that's it.
We'll never know what the telescope can see...
Or what's really up there.
The end.
Thanks for playing.
Time to go do other things now.
Maybe write a travel companion.
I'm going into the Telescope now.
Goodbye.
Whatever you do...
don't play with the fish.
-your friend, the Telescope Operator
formerly,
the Sign Painter
Can't get youtube data for Pks8Bn5YzCc
There are 2 videos.
<level

 

ballsrequired

=

"1"

 

letterboxed

=

"false"

 

visualdebug

=

"false"

 

autobounds

=

"false"

 

textcolor

=

"255,255,255"

 

texteffects

=

"true"

 

timebugprobability

=

"0"

 

strandgeom

=

"false"

 

allowskip

=

"false"

 

>


 
	

<!-- Camera -->


	

<camera

 

aspect

=

"normal"

>


		

<poi

 

pos

=

"202.85,1409.42"

 

traveltime

=

"0"

 

pause

=

"1"

 

zoom

=

"0.806"

 

/>


		

<poi

 

pos

=

"0,975"

 

traveltime

=

"8"

 

pause

=

"0"

 

zoom

=

"0.308"

 

/>


	</camera

>


	

<camera

 

aspect

=

"widescreen"

>


		

<poi

 

pos

=

"202.85,1409.42"

 

traveltime

=

"0"

 

pause

=

"1"

 

zoom

=

"0.806"

 

/>


		

<poi

 

pos

=

"0,975"

 

traveltime

=

"8"

 

pause

=

"0"

 

zoom

=

"0.421"

 

/>


	</camera

>


 
	

<!-- Music -->


	

<music

 

id

=

"SOUND_LEVEL_OBSERVATORYOBSERVATIONSTATION_ALWAYSDESTROYTHETHINGSILOVE(EXCERPT)"

 

/>


 
	

<!-- Loop Sound -->


	

<loopsound

 

id

=

"SOUND_LEVEL_OBSERVATORYOBSERVATIONSTATION_LOOP_EVENINGWATER"

 

/>


 
	

<!-- Fire -->


 
	

<!-- Signposts -->


	

<signpost

 

name

=

"signpost_brown"

 

depth

=

"-8"

 

x

=

"-868.84"

 

y

=

"524.79"

 

scalex

=

"0.963"

 

scaley

=

"0.963"

 

rotation

=

"-3.14"

 

alpha

=

"1"

 

colorize

=

"0,0,0"

 

image

=

"IMAGE_SCENE_OBSERVATORYOBSERVATIONSTATION_SIGNPOST_BROWN"

 

text

=

"SIGNPOST_OBSERVATORYOBSERVATIONSTATION_1"

   

/>


 
	

<!-- Pipes -->


 
	

<!-- Balls -->


	

<BallInstance

 

type

=

"UtilGooGlobberMomQuiet"

 

x

=

"-566.99"

 

y

=

"315.17"

 

id

=

"0"

 

angle

=

"0"

 

/>


	

<BallInstance

 

type

=

"UtilGooGlobberMom"

 

x

=

"664.49"

 

y

=

"315.67"

 

id

=

"1"

 

angle

=

"0"

 

/>


	

<BallInstance

 

type

=

"Anchor"

 

x

=

"-567.66"

 

y

=

"249.83"

 

id

=

"2"

 

angle

=

"0"

 

/>


	

<BallInstance

 

type

=

"Anchor"

 

x

=

"663.82"

 

y

=

"250.33"

 

id

=

"3"

 

angle

=

"0"

 

/>


	

<BallInstance

 

type

=

"Fish"

 

x

=

"680"

 

y

=

"415"

 

id

=

"4"

 

angle

=

"0"

 

/>


	

<BallInstance

 

type

=

"Fish"

 

x

=

"471"

 

y

=

"422"

 

id

=

"5"

 

angle

=

"0"

 

/>


	

<BallInstance

 

type

=

"Fish"

 

x

=

"625"

 

y

=

"392"

 

id

=

"6"

 

angle

=

"0"

 

/>


	

<BallInstance

 

type

=

"Fish"

 

x

=

"303"

 

y

=

"438"

 

id

=

"7"

 

angle

=

"0"

 

/>


	

<BallInstance

 

type

=

"Fish"

 

x

=

"375"

 

y

=

"397"

 

id

=

"8"

 

angle

=

"0"

 

/>


	

<BallInstance

 

type

=

"Fish"

 

x

=

"593"

 

y

=

"444"

 

id

=

"9"

 

angle

=

"0"

 

/>


	

<BallInstance

 

type

=

"Fish"

 

x

=

"-631"

 

y

=

"388"

 

id

=

"10"

 

angle

=

"0"

 

/>


	

<BallInstance

 

type

=

"Fish"

 

x

=

"-383"

 

y

=

"438"

 

id

=

"11"

 

angle

=

"0"

 

/>


	

<BallInstance

 

type

=

"Fish"

 

x

=

"-427"

 

y

=

"376"

 

id

=

"12"

 

angle

=

"0"

 

/>


	

<BallInstance

 

type

=

"Fish"

 

x

=

"-725"

 

y

=

"400"

 

id

=

"13"

 

angle

=

"0"

 

/>


	

<BallInstance

 

type

=

"Fish"

 

x

=

"-329"

 

y

=

"388"

 

id

=

"14"

 

angle

=

"0"

 

/>


	

<BallInstance

 

type

=

"Fish"

 

x

=

"-491"

 

y

=

"424"

 

id

=

"15"

 

angle

=

"0"

 

/>


	

<BallInstance

 

type

=

"AnchorStickyInvisible"

 

x

=

"136"

 

y

=

"860"

 

id

=

"16"

 

angle

=

"0"

 

/>


	

<BallInstance

 

type

=

"AnchorStickyInvisible"

 

x

=

"152"

 

y

=

"768"

 

id

=

"17"

 

angle

=

"0"

 

/>


	

<BallInstance

 

type

=

"AnchorStickyInvisible"

 

x

=

"-151"

 

y

=

"763"

 

id

=

"18"

 

angle

=

"0"

 

/>


	

<BallInstance

 

type

=

"AnchorStickyInvisible"

 

x

=

"46"

 

y

=

"1414"

 

id

=

"19"

 

angle

=

"0"

 

/>


	

<BallInstance

 

type

=

"AnchorStickyInvisible"

 

x

=

"-137.9"

 

y

=

"925.91"

 

id

=

"20"

 

angle

=

"0"

 

/>


 
	

<!-- Arms -->


	

<Strand

 

gb1

=

"2"

 

gb2

=

"0"

 

/>


	

<Strand

 

gb1

=

"3"

 

gb2

=

"1"

 

/>


 
	

<!-- Level Exit -->


	

<endoncollision

 

id1

=

"endTrigger"

 

id2

=

"endDetector"

 

delay

=

"0.1"

/>


 
</level

>
<scene

 

minx

=

"-1300"

 

miny

=

"0"

 

maxx

=

"1300"

 

maxy

=

"1950"

 

backgroundcolor

=

"0,0,0"

 

>


 
	

<!-- ForceFields -->


	

<linearforcefield

 

id

=

"wtrCanceler"

 

type

=

"gravity"

 

center

=

"-5,-590.5703"

 

width

=

"2670"

 

height

=

"2031.1406"

 

force

=

"0,-14"

 

dampeningfactor

=

"0"

 

antigrav

=

"true"

 

geomonly

=

"true"

 

enabled

=

"true"

 

water

=

"false"

 

/>


	

<linearforcefield

 

id

=

"wtr"

 

type

=

"gravity"

 

center

=

"-5,-590.5703"

 

width

=

"2670"

 

height

=

"2031.1406"

 

force

=

"0,14"

 

dampeningfactor

=

"0"

 

antigrav

=

"true"

 

geomonly

=

"false"

 

enabled

=

"true"

 

water

=

"true"

 

color

=

"255,0,0,0"

 

depth

=

"1"

 

/>


	

<linearforcefield

 

type

=

"gravity"

 

force

=

"0,-10"

 

dampeningfactor

=

"1.6"

 

antigrav

=

"true"

 

geomonly

=

"false"

 

/>


 
	

<!-- Particles -->


	

<particles

 

effect

=

"blackLeavesHeavy"

 

depth

=

"80"

 

pretick

=

"0"

 

/>


	

<particles

 

effect

=

"OOS_breezeRight"

 

depth

=

"40"

 

pretick

=

"0"

 

/>


 
	

<!-- SceneLayers -->


	

<SceneLayer

 

name

=

"blackBogTree"

 

depth

=

"8"

 

x

=

"-386"

 

y

=

"461.8"

 

scalex

=

"0.251"

 

scaley

=

"0.251"

 

rotation

=

"9.33"

 

alpha

=

"1"

 

colorize

=

"255,255,255"

 

image

=

"IMAGE_SCENE_OBSERVATORYOBSERVATIONSTATION_BLACKBOGTREE"

   

/>


	

<SceneLayer

 

name

=

"blackBogTree"

 

depth

=

"8"

 

x

=

"-457"

 

y

=

"442.99"

 

scalex

=

"0.156"

 

scaley

=

"0.156"

 

rotation

=

"-18.5"

 

alpha

=

"1"

 

colorize

=

"255,255,255"

 

image

=

"IMAGE_SCENE_OBSERVATORYOBSERVATIONSTATION_BLACKBOGTREE"

   

/>


	

<SceneLayer

 

name

=

"blackBogTree"

 

depth

=

"8"

 

x

=

"410"

 

y

=

"458.8"

 

scalex

=

"0.251"

 

scaley

=

"0.251"

 

rotation

=

"9.33"

 

alpha

=

"1"

 

colorize

=

"255,255,255"

 

image

=

"IMAGE_SCENE_OBSERVATORYOBSERVATIONSTATION_BLACKBOGTREE"

   

/>


	

<SceneLayer

 

name

=

"blackBogTree"

 

depth

=

"8"

 

x

=

"448"

 

y

=

"440.99"

 

scalex

=

"0.156"

 

scaley

=

"0.156"

 

rotation

=

"-18.5"

 

alpha

=

"1"

 

colorize

=

"255,255,255"

 

image

=

"IMAGE_SCENE_OBSERVATORYOBSERVATIONSTATION_BLACKBOGTREE"

   

/>


	

<SceneLayer

 

name

=

"signpostPole_brown"

 

depth

=

"-8.8"

 

x

=

"-874.07"

 

y

=

"476.96"

 

scalex

=

"0.897"

 

scaley

=

"1.654"

 

rotation

=

"-1.11"

 

alpha

=

"1"

 

colorize

=

"0,0,0"

 

image

=

"IMAGE_SCENE_OBSERVATORYOBSERVATIONSTATION_SIGNPOSTPOLE_BROWN"

   

/>


	

<SceneLayer

 

name

=

"lf2"

 

depth

=

"80"

 

x

=

"222.21"

 

y

=

"1338.76"

 

scalex

=

"10.548"

 

scaley

=

"10.548"

 

rotation

=

"0"

 

alpha

=

"0.38999998569489"

 

colorize

=

"255,255,255"

 

image

=

"IMAGE_SCENE_OBSERVATORYOBSERVATIONSTATION_LF2"

   

/>


	

<SceneLayer

 

name

=

"lf2"

 

depth

=

"80"

 

x

=

"-1016.42"

 

y

=

"651.37"

 

scalex

=

"12.533"

 

scaley

=

"12.533"

 

rotation

=

"0"

 

alpha

=

"0.31999999284744"

 

colorize

=

"255,255,255"

 

image

=

"IMAGE_SCENE_OBSERVATORYOBSERVATIONSTATION_LF2"

   

/>


	

<SceneLayer

 

name

=

"lf2"

 

depth

=

"80"

 

x

=

"874.62"

 

y

=

"855.32"

 

scalex

=

"14.47"

 

scaley

=

"14.47"

 

rotation

=

"0"

 

alpha

=

"0.31999999284744"

 

colorize

=

"255,255,255"

 

image

=

"IMAGE_SCENE_OBSERVATORYOBSERVATIONSTATION_LF2"

   

/>


	

<SceneLayer

 

name

=

"stormCloud1"

 

depth

=

"8"

 

x

=

"23.6"

 

y

=

"1828.6"

 

scalex

=

"8.733"

 

scaley

=

"8.375"

 

rotation

=

"-3.04"

 

alpha

=

"1"

 

colorize

=

"128,128,128"

 

image

=

"IMAGE_SCENE_OBSERVATORYOBSERVATIONSTATION_STORMCLOUD1"

   

/>


	

<SceneLayer

 

name

=

"stormCloud1"

 

depth

=

"8"

 

x

=

"980.98"

 

y

=

"1799.99"

 

scalex

=

"6.969"

 

scaley

=

"8.313"

 

rotation

=

"-7.23"

 

alpha

=

"1"

 

colorize

=

"128,128,128"

 

image

=

"IMAGE_SCENE_OBSERVATORYOBSERVATIONSTATION_STORMCLOUD1"

   

/>


	

<SceneLayer

 

name

=

"stormCloud1"

 

depth

=

"8"

 

x

=

"-983"

 

y

=

"1848"

 

scalex

=

"6.969"

 

scaley

=

"8.312"

 

rotation

=

"3.11"

 

alpha

=

"1"

 

colorize

=

"128,128,128"

 

image

=

"IMAGE_SCENE_OBSERVATORYOBSERVATIONSTATION_STORMCLOUD1"

   

/>


	

<SceneLayer

 

name

=

"stormCloud1"

 

depth

=

"-8"

 

x

=

"-105.37"

 

y

=

"1766.64"

 

scalex

=

"8.733"

 

scaley

=

"8.375"

 

rotation

=

"1.61"

 

alpha

=

"1"

 

colorize

=

"128,128,128"

 

image

=

"IMAGE_SCENE_OBSERVATORYOBSERVATIONSTATION_STORMCLOUD1"

   

/>


	

<SceneLayer

 

name

=

"bush_fg1a"

 

depth

=

"160"

 

x

=

"1034.62"

 

y

=

"334.97"

 

scalex

=

"3.209"

 

scaley

=

"3.209"

 

rotation

=

"78.58"

 

alpha

=

"1"

 

colorize

=

"0,0,0"

 

image

=

"IMAGE_SCENE_OBSERVATORYOBSERVATIONSTATION_BUSH_FG1A"

   

/>


	

<SceneLayer

 

name

=

"bush_fg1a"

 

depth

=

"160"

 

x

=

"-991.06"

 

y

=

"306.25"

 

scalex

=

"3.677"

 

scaley

=

"3.677"

 

rotation

=

"-86.26"

 

alpha

=

"1"

 

colorize

=

"0,0,0"

 

image

=

"IMAGE_SCENE_OBSERVATORYOBSERVATIONSTATION_BUSH_FG1A"

   

/>


	

<SceneLayer

 

name

=

"stormCloud1"

 

depth

=

"-80"

 

x

=

"-391.64"

 

y

=

"1211.54"

 

scalex

=

"2.261"

 

scaley

=

"2.168"

 

rotation

=

"2.82"

 

alpha

=

"0.25"

 

colorize

=

"128,128,128"

 

image

=

"IMAGE_SCENE_OBSERVATORYOBSERVATIONSTATION_STORMCLOUD1"

   

/>


	

<SceneLayer

 

name

=

"stormCloud1"

 

depth

=

"-80"

 

x

=

"1286.25"

 

y

=

"865.33"

 

scalex

=

"3.266"

 

scaley

=

"3.132"

 

rotation

=

"-1.93"

 

alpha

=

"0.18999999761581"

 

colorize

=

"128,128,128"

 

image

=

"IMAGE_SCENE_OBSERVATORYOBSERVATIONSTATION_STORMCLOUD1"

   

/>


	

<SceneLayer

 

name

=

"stormCloud1"

 

depth

=

"-80"

 

x

=

"627.47"

 

y

=

"1466.78"

 

scalex

=

"2.933"

 

scaley

=

"2.812"

 

rotation

=

"-1.93"

 

alpha

=

"0.44999998807907"

 

colorize

=

"128,128,128"

 

image

=

"IMAGE_SCENE_OBSERVATORYOBSERVATIONSTATION_STORMCLOUD1"

   

/>


	

<SceneLayer

 

name

=

"bg_hills_bleeding"

 

depth

=

"-160"

 

x

=

"-105.97"

 

y

=

"391.31"

 

scalex

=

"5.006"

 

scaley

=

"6.877"

 

rotation

=

"6.06"

 

alpha

=

"1"

 

colorize

=

"255,255,255"

 

image

=

"IMAGE_SCENE_OBSERVATORYOBSERVATIONSTATION_BG_HILLS_BLEEDING"

   

/>


	

<SceneLayer

 

name

=

"bg"

 

depth

=

"-480"

 

x

=

"-4.32"

 

y

=

"1023.94"

 

scalex

=

"10.461"

 

scaley

=

"7.532"

 

rotation

=

"0"

 

alpha

=

"1"

 

colorize

=

"255,255,255"

 

image

=

"IMAGE_SCENE_OBSERVATORYOBSERVATIONSTATION_BG"

   

/>


 
	

<!-- Buttons -->


 
	

<!-- Labels -->


 
	

<!-- Static Geometry -->


	

<rectangle

 

id

=

"endDetector"

 

static

=

"true"

 

material

=

"rock"

 

contacts

=

"false"

 

x

=

"4.3201"

 

y

=

"77.105"

 

width

=

"513.0513"

 

height

=

"114.0107"

 

rotation

=

"0"

 

/>


	

<line

 

id

=

""

 

static

=

"true"

 

material

=

"rock"

 

anchor

=

"1313.0508,873.9954"

 

normal

=

"-1,0"

 

/>


	

<line

 

id

=

""

 

static

=

"true"

 

material

=

"rock"

 

anchor

=

"-1325.0527,906.9983"

 

normal

=

"1,0"

 

/>


	

<rectangle

 

id

=

""

 

static

=

"true"

 

material

=

"rock"

 

x

=

"-175.5"

 

y

=

"-50"

 

width

=

"49"

 

height

=

"100"

 

rotation

=

"0"

 

/>


	

<rectangle

 

id

=

""

 

static

=

"true"

 

material

=

"rock"

 

x

=

"175.5"

 

y

=

"-50"

 

width

=

"49"

 

height

=

"100"

 

rotation

=

"0"

 

/>


	

<line

 

id

=

""

 

static

=

"true"

 

material

=

"rock"

 

anchor

=

"0,-2663"

 

normal

=

"0,1"

 

/>


	

<rectangle

 

id

=

"trackLeft"

 

static

=

"true"

 

tag

=

"unwalkable"

 

material

=

"machine"

 

x

=

"-150"

 

y

=

"-1225"

 

width

=

"100"

 

height

=

"2300"

 

rotation

=

"0"

 

/>


	

<rectangle

 

id

=

"trackRight"

 

static

=

"true"

 

tag

=

"unwalkable"

 

material

=

"machine"

 

x

=

"150"

 

y

=

"-1225"

 

width

=

"100"

 

height

=

"2300"

 

rotation

=

"0"

 

/>


 
	

<!-- Dynamic Geometry -->


	

<circle

 

id

=

"endTrigger"

 

mass

=

"10"

 

static

=

"false"

 

tag

=

"unwalkable"

 

material

=

"machine"

 

contacts

=

"false"

 

x

=

"0"

 

y

=

"-1593"

 

radius

=

"35"

 

/>


	

<rectangle

 

id

=

"tscp"

 

mass

=

"200"

 

static

=

"false"

 

tag

=

"unwalkable"

 

material

=

"machine"

 

image

=

"IMAGE_SCENE_OBSERVATORYOBSERVATIONSTATION_TSCP"

 

imagepos

=

"30.4966,1335.8672"

 

imagerot

=

"0"

 

imagescale

=

"0.9437,0.9437"

 

x

=

"58.5923"

 

y

=

"1396.7954"

 

width

=

"72.8528"

 

height

=

"40.4997"

 

rotation

=

"0.4479"

 

/>


	

<rectangle

 

id

=

"tcl1"

 

mass

=

"20"

 

static

=

"false"

 

material

=

"machine"

 

image

=

"IMAGE_SCENE_OBSERVATORYOBSERVATIONSTATION_TCL"

 

imagepos

=

"-1142.7043,-753.4438"

 

imagerot

=

"-1.4178"

 

imagescale

=

"2.1548,2.1548"

 

x

=

"-1062.0981"

 

y

=

"-756.1069"

 

width

=

"52.0413"

 

height

=

"379.9004"

 

rotation

=

"-1.4086"

 

/>


	

<rectangle

 

id

=

"tcl2"

 

mass

=

"20"

 

static

=

"false"

 

material

=

"machine"

 

image

=

"IMAGE_SCENE_OBSERVATORYOBSERVATIONSTATION_TCL"

 

imagepos

=

"-810.7115,-842.8794"

 

imagerot

=

"-1.4178"

 

imagescale

=

"2.4844,2.4844"

 

x

=

"-713.0964"

 

y

=

"-874.3096"

 

width

=

"438.0003"

 

height

=

"117.5257"

 

rotation

=

"0.1622"

 

/>


	

<rectangle

 

id

=

"tcl3"

 

mass

=

"20"

 

static

=

"false"

 

material

=

"machine"

 

image

=

"IMAGE_SCENE_OBSERVATORYOBSERVATIONSTATION_TCL"

 

imagepos

=

"703.2788,-878.915"

 

imagerot

=

"1.5616"

 

imagescale

=

"2.4844,2.4844"

 

x

=

"612.0068"

 

y

=

"-825.9023"

 

width

=

"438"

 

height

=

"130"

 

rotation

=

"0"

 

/>


	

<rectangle

 

id

=

"tcl4"

 

mass

=

"20"

 

static

=

"false"

 

material

=

"machine"

 

image

=

"IMAGE_SCENE_OBSERVATORYOBSERVATIONSTATION_TCL"

 

imagepos

=

"1013.7847,-764.8838"

 

imagerot

=

"1.5616"

 

imagescale

=

"2.4844,2.4844"

 

x

=

"922.5117"

 

y

=

"-713.875"

 

width

=

"438"

 

height

=

"126"

 

rotation

=

"0"

 

/>


	

<rectangle

 

id

=

"tcl5"

 

mass

=

"20"

 

static

=

"false"

 

material

=

"machine"

 

image

=

"IMAGE_SCENE_OBSERVATORYOBSERVATIONSTATION_TCL"

 

imagepos

=

"1167.7373,-657.7826"

 

imagerot

=

"1.5616"

 

imagescale

=

"1.8255,1.8255"

 

x

=

"1100.6436"

 

y

=

"-644.5742"

 

width

=

"321.8398"

 

height

=

"44.0879"

 

rotation

=

"0"

 

/>


	

<rectangle

 

id

=

"GlobBusterL"

 

mass

=

"10"

 

static

=

"false"

 

tag

=

"ballbuster,detaching"

 

material

=

"machine"

 

contacts

=

"false"

 

x

=

"-567.4717"

 

y

=

"204.5674"

 

width

=

"54.334"

 

height

=

"47"

 

rotation

=

"0"

 

/>


	

<rectangle

 

id

=

"GlobBusterR"

 

mass

=

"10"

 

static

=

"false"

 

tag

=

"ballbuster,detaching"

 

material

=

"machine"

 

contacts

=

"false"

 

x

=

"666.0078"

 

y

=

"199.0684"

 

width

=

"54.334"

 

height

=

"47"

 

rotation

=

"0"

 

/>


	

<rectangle

 

id

=

"islandBottom"

 

mass

=

"1600"

 

static

=

"false"

 

tag

=

"unwalkable"

 

material

=

"machine"

 

image

=

"IMAGE_SCENE_OBSERVATORYOBSERVATIONSTATION_IS_HEAD"

 

imagepos

=

"-3.8958,-1058.7876"

 

imagerot

=

"0"

 

imagescale

=

"4.5973,4.5973"

 

x

=

"0"

 

y

=

"-798.6348"

 

width

=

"196"

 

height

=

"1427.5742"

 

rotation

=

"0"

 

/>


	

<rectangle

 

id

=

"islandFingerCenter"

 

mass

=

"225"

 

static

=

"false"

 

tag

=

"unwalkable"

 

material

=

"machine"

 

image

=

"IMAGE_SCENE_OBSERVATORYOBSERVATIONSTATION_IS_F2"

 

imagepos

=

"-8.5035,916.5037"

 

imagerot

=

"0"

 

imagescale

=

"1.9972,1.9972"

 

x

=

"-2.5"

 

y

=

"931.5"

 

width

=

"25"

 

height

=

"637"

 

rotation

=

"0"

 

/>


	

<rectangle

 

id

=

"islandFingerLeft"

 

mass

=

"225"

 

static

=

"false"

 

tag

=

"unwalkable"

 

material

=

"machine"

 

image

=

"IMAGE_SCENE_OBSERVATORYOBSERVATIONSTATION_IS_F1"

 

imagepos

=

"-125.043,743.8603"

 

imagerot

=

"0"

 

imagescale

=

"2.0002,2.0002"

 

x

=

"-137.5"

 

y

=

"775"

 

width

=

"25"

 

height

=

"300"

 

rotation

=

"0"

 

/>


	

<rectangle

 

id

=

"islandFingerRight"

 

mass

=

"225"

 

static

=

"false"

 

tag

=

"unwalkable"

 

material

=

"machine"

 

image

=

"IMAGE_SCENE_OBSERVATORYOBSERVATIONSTATION_IS_F3"

 

imagepos

=

"133.4969,712.0039"

 

imagerot

=

"0"

 

imagescale

=

"1.9993,1.9993"

 

x

=

"135.5"

 

y

=

"739.5"

 

width

=

"25"

 

height

=

"239"

 

rotation

=

"0"

 

/>


	

<rectangle

 

id

=

"islandMid"

 

mass

=

"500"

 

static

=

"false"

 

tag

=

"mostlydeadly"

 

material

=

"machine"

 

image

=

"IMAGE_SCENE_OBSERVATORYOBSERVATIONSTATION_IS_MID"

 

imagepos

=

"53.5295,221.9482"

 

imagerot

=

"0"

 

imagescale

=

"2.1646,2.1366"

 

x

=

"0"

 

y

=

"279.9927"

 

width

=

"300"

 

height

=

"709.9854"

 

rotation

=

"0"

 

/>


 
	

<!-- Geometry Constraints -->


	

<hinge

 

body1

=

"islandBottom"

 

body2

=

"endTrigger"

 

anchor

=

"0,-1485"

/>


	

<hinge

 

body1

=

"tscp"

 

body2

=

"islandFingerCenter"

 

anchor

=

"-9.5,1250.5"

 

lostop

=

"0"

 

histop

=

"0"

 

bounce

=

"0.01"

/>


	

<hinge

 

body1

=

"islandBottom"

 

body2

=

"tcl5"

 

anchor

=

"959.9150390625,-632.98046875"

/>


	

<hinge

 

body1

=

"islandBottom"

 

body2

=

"tcl4"

 

anchor

=

"728.892578125,-728.9892578125"

/>


	

<hinge

 

body1

=

"islandBottom"

 

body2

=

"tcl3"

 

anchor

=

"407.8603515625,-870.00390625"

/>


	

<hinge

 

body1

=

"islandBottom"

 

body2

=

"tcl2"

 

anchor

=

"-531.23388671875,-809.998046875"

/>


	

<hinge

 

body1

=

"islandBottom"

 

body2

=

"tcl1"

 

anchor

=

"-897.2705078125,-725.9892578125"

/>


	

<hinge

 

body1

=

"GlobBusterL"

 

body2

=

"islandBottom"

 

anchor

=

"-566.494140625,226"

/>


	

<hinge

 

body1

=

"GlobBusterR"

 

body2

=

"islandBottom"

 

anchor

=

"666.9853515625,224.5009765625"

/>


	

<hinge

 

body1

=

"islandFingerLeft"

 

body2

=

"islandMid"

 

anchor

=

"-136.5,622"

 

lostop

=

"0"

 

histop

=

"0"

 

bounce

=

"0.01"

/>


	

<hinge

 

body1

=

"islandFingerCenter"

 

body2

=

"islandMid"

 

anchor

=

"-0.5,640"

 

lostop

=

"0"

 

histop

=

"0"

 

bounce

=

"0.01"

/>


	

<hinge

 

body1

=

"islandFingerRight"

 

body2

=

"islandMid"

 

anchor

=

"135,616"

 

lostop

=

"0"

 

histop

=

"0"

 

bounce

=

"0.01"

/>


	

<hinge

 

body1

=

"islandMid"

 

body2

=

"islandBottom"

 

anchor

=

"0,-365"

/>


	

<hinge

 

body1

=

"islandMid"

 

body2

=

"islandBottom"

 

anchor

=

"0,54"

/>


</scene

>