World of Goo: Far Lands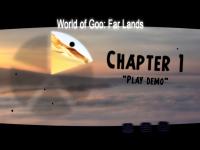 Unknown author
Total downloads: 25,781
Latest version: 1.1
Release date: 01/22/2012 - 10:19
For the promotion of the new 1.1 goomod format! Here it is!!! Far Lands is goomod!....
requirements: you need GooTool version 1.0.1 or later to play this mod!
Made by Hany, goomodded by Pavke and revised by thB (v1.0) and MOM4Evr (v1.1).
Changelog
v1.1:
- Fix: As per new GooTool spec, uppercase file extensions aren't supported. Changed res/levels/FarLands_L06/Pichliac04.PNG to .png
- Fix: Removed spaces in filename override/res/levels/FarLands_L05/Retaz a skull.png
- Tweak: Changed background PNG images to JPEG via thB's JPEG hack to cut down on file size
- Tweak: Changed override/res/levels/FarLands__L08/hmla.png to greyscale to cut down on file size (it's just white and alpha anyway)
- Tweak: removed unused images pichliac and pichliac2, and replaced picliac3 with pichliac4, which looks better anyway
- Tweak: removed FarLands_Ivy/body.png, as it was nearly identical to bodyAttached.png
v1.0:
- Fix: widescreen support for all levels (most levels crashed on widescreen)
- Fix: missing image now included
- Fix: removed all references to non-existent and/or unused resources
- Fix/Change: ball types are independent from original game
- Fix/Change: OCD on level 5 is more realistically achievable
- Add: original Far Lands music
- removed duplicate images saving over 4 MB total
- other small XML cleanups
v0.9:
- first goomod release
NOTE 1: Due to custom images and music mod is 31MB large.
NOTE 2: For all those who are unable to install Far Lands goomod here is the original download. Just unzip it anywhere except your WoG folder and run Far_Lands.exe
WOG_Far_Lands_Chapter1.rar (Link broken)
NOTE 3: Because the original download link is broken:
1. WOG_Far_Lands_Chapter1.rar (107 MB, the original file) (Link broken)
2. wog_farlands_chapter1_v1.0_condensed.7z (61 MB, condensed file) (Link broken)
To install the condensed version, just
- make a copy of any clean, unmodified WoG installation directory and
- extract the archive into the new directory